Williams grinds through start without slider
Hurdle impressed by right-hander's 5 2/3 innings against Phillies
PITTSBURGH -- Trevor Williams didn't have his slider for much of Friday night. How did he know? "It didn't slide," he said. Without his best swing-and-miss offspeed pitch, Williams set out to make the most of what he had by forcing the Phillies to put the ball in play.
But Williams fell victim to the often random nature of batted balls, allowing three runs over 5 2/3 innings in the Pirates' 7-2 loss to the Phillies at PNC Park. Pittsburgh only mustered three hits on the night, none of them between the first and ninth innings, so Williams was dealt his third loss of the season.
"It's just one of those days you have to go out there and know what you have, not try to do too much," Williams said. "Kind of take a step back and say, 'You know, this is what I have today and I'm going to give the best of what I've got today.'"
Williams didn't record a strikeout in his third start of the season. But he was not hit hard. Three of Philadelphia's four hardest pieces of contact were groundouts, and the other was a sacrifice fly. The Phillies' average exit velocity against Williams was 78 mph, according to Statcast™, below the league-average mark of 86.9 mph.
But Williams clearly didn't have his slider. He threw only 11, and five were put in play. He had to lean on his four-seam fastball, sinker and changeup, looking for early contact and groundouts.
For two innings, the plan worked perfectly. Williams retired Philadelphia's first six hitters in order, and three of them tapped out to the mound. He allowed a run in the third inning on a leadoff double and a ground-ball single up the middle.
"We could have escaped with no runs, but unfortunately it's a seeing-eye baseball," Williams said. "That's kind of how today went."
He rebounded with a nine-pitch fourth and a perfect fifth, but tough luck followed him into the sixth inning. Cesar Hernandez battled his way to an eight-pitch, leadoff walk. Then came Daniel Nava's jam-shot to left, a critical double with a 10-percent hit probability, according to Statcast™. That put runners on second and third, and a pair of run-scoring outs gave the Phillies a one-run lead.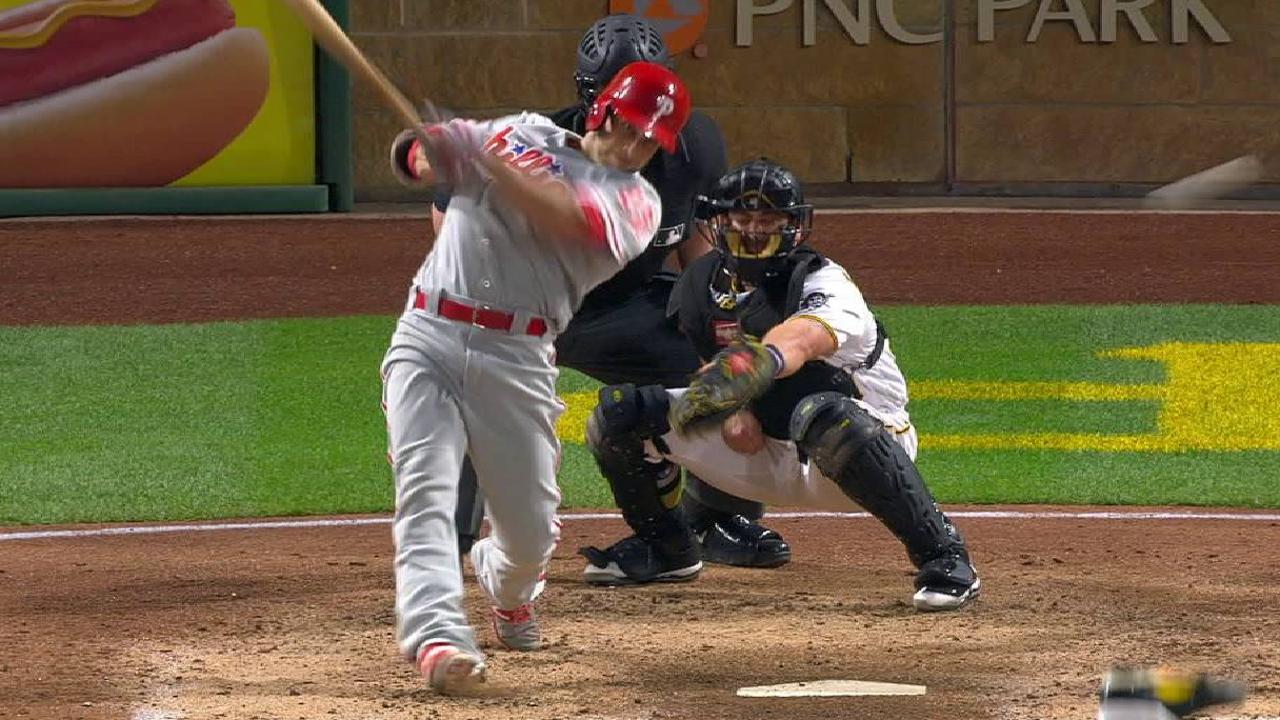 "It's tough. I still have to go out and make big pitches in that situation," Williams said. "Didn't necessarily do my job keeping them off home, but we limited the damage as much as we could."
The next at-bat would be Williams' final one of the night. He went back and forth with Odubel Herrera for 11 pitches, and Herrera swatted the last one -- a slider below the strike zone -- into center for a single.
"That last AB really beat me down. It was a lot of big pitches that I was trying to make," Williams said. "It's tough to not win that battle."
Pirates manager Clint Hurdle removed Williams from the game after 93 pitches, the highest total of his young Major League career. The Pirates' sixth starter out of Spring Training, Williams is still getting comfortable in the rotation and proving to be a more than capable replacement in the spot vacated by Jameson Taillon.
Williams held the D-backs to one run over five innings and retired the final 12 hitters he faced in his last start, and Hurdle considered Friday to be another step in the right direction.
"He has made progression," Hurdle said. "If he gets another out, it's a quality start. To me, there was quality to the start regardless."
Adam Berry has covered the Pirates for MLB.com since 2015. Follow him on Twitter and Facebook, read his blog and listen to his podcast. This story was not subject to the approval of Major League Baseball or its clubs.