Bell stays hot at plate in loss to Phillies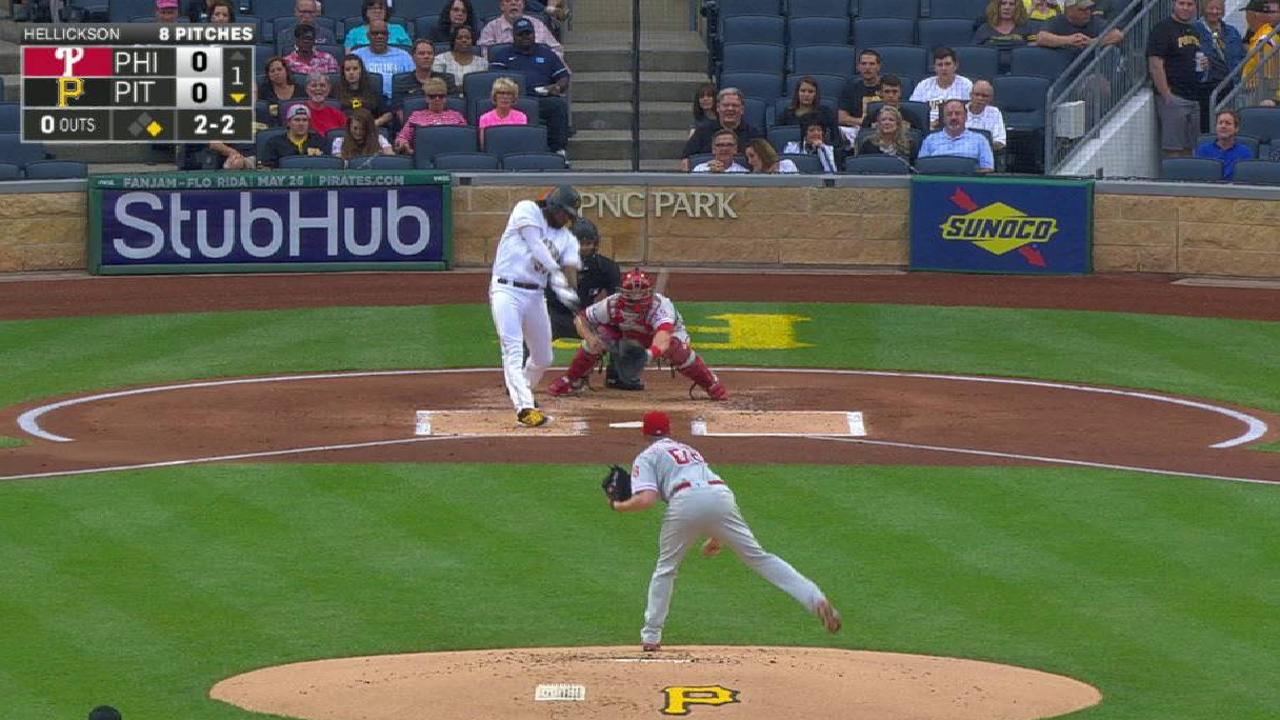 PITTSBURGH -- Two batters into Friday night's series opener at PNC Park, Jeremy Hellickson had given up two hits and a run. Twenty-six batters later, the Pirates still had two hits. Hellickson gave the Phillies the kind of start they needed, throwing six strong innings in a 7-2 win over the Pirates.
In the first inning, Hellickson gave up a leadoff single to Josh Harrison and an RBI double to Josh Bell. The Pirates tacked on another run through an error, and Hellickson proceeded to retire 16 of the next 17 batters he faced. After throwing 31 pitches in the first, Hellickson needed only 53 to get through the next five innings. The only thing that forced him out of the game? An apparent injury while slugging an RBI double down the left-field line.
"He started off that first inning, and he didn't look like himself," Phillies manager Pete Mackanin said. "He was out of whack, then Freddy [Galvis] made that error, and I thought, 'Oh, here we go again. Nothing's going right.' Then he settled down, and after the first inning, I don't think he gave up a hit. He really cruised, changed speeds and did a great job."
• Hellickson delivers outing the Phillies needed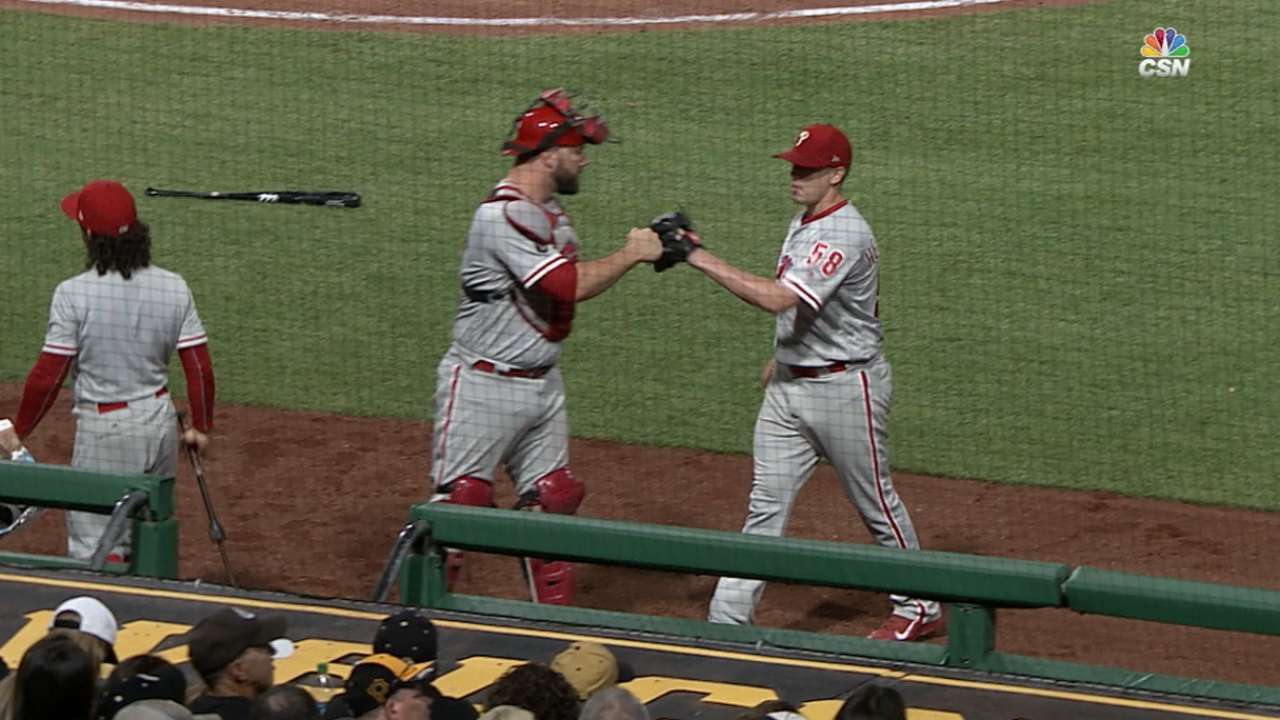 After throwing 31 pitches in the first, Hellickson needed only 53 to get through the next five innings. The only thing that forced him out of the game? Lower back tightness that came about during an at-bat the ended with an RBI double down the left-field line.
"If you can jump on a pitcher, get on him. We're at the big league level. When guys get settled in, they're here for a reason," Harrison said of Hellickson. "He's a guy that's been around quite a bit. Probably made some adjustments. At the end of the day, locate pitches and let your defense work."
Pirates starter Trevor Williams did not give up many hard-hit balls, but he took the loss after allowing three runs on four hits and two walks over 5 2/3 innings. Cesar Hernandez singled home a run in the third, and the Phillies took a lead on two run-scoring outs in the sixth.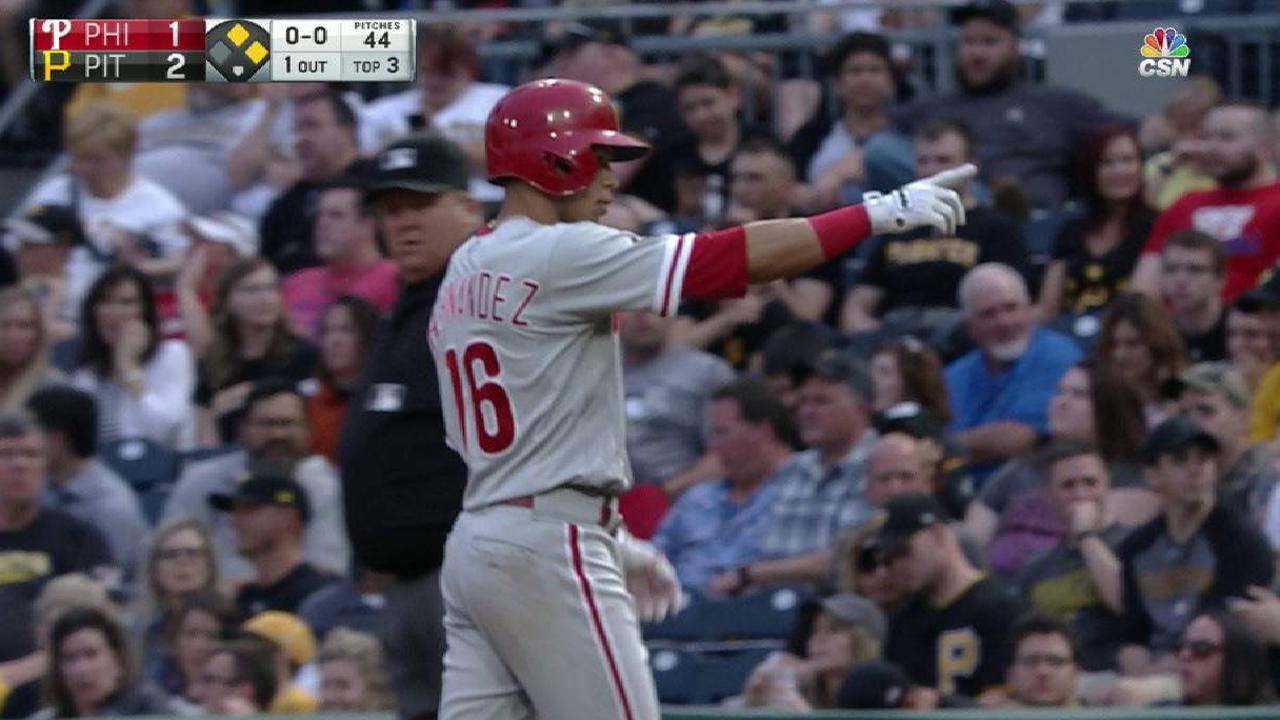 Hellickson's seventh-inning double extended Philadelphia's lead, and catcher Cameron Rupp launched a three-run homer off Pirates closer Tony Watson to put the game away in the ninth. Bell's leadoff single in the ninth snapped the Bucs' hitless streak, which began after his first at-bat of the night.
"It just wasn't our night," Pirates manager Clint Hurdle said. "We got outpitched, and we got outhit.
MOMENTS THAT MATTERED
Jam shot: Between a walk and two productive outs, the Phillies' sixth-inning rally was sparked by Daniel Nava's double, a hard-luck hit for Williams. With Hernandez on first, Nava hit a jam shot down the left-field line, away from the Pirates' shifted defense. The ball bounced into foul territory, giving Hernandez time to reach third. With an exit velocity of 49.9 mph, according to Statcast™, Nava's shot had just a 10-percent hit probability. But it set up Aaron Altherr's RBI groundout and Tommy Joseph's sacrifice fly, which gave the Phillies a one-run lead.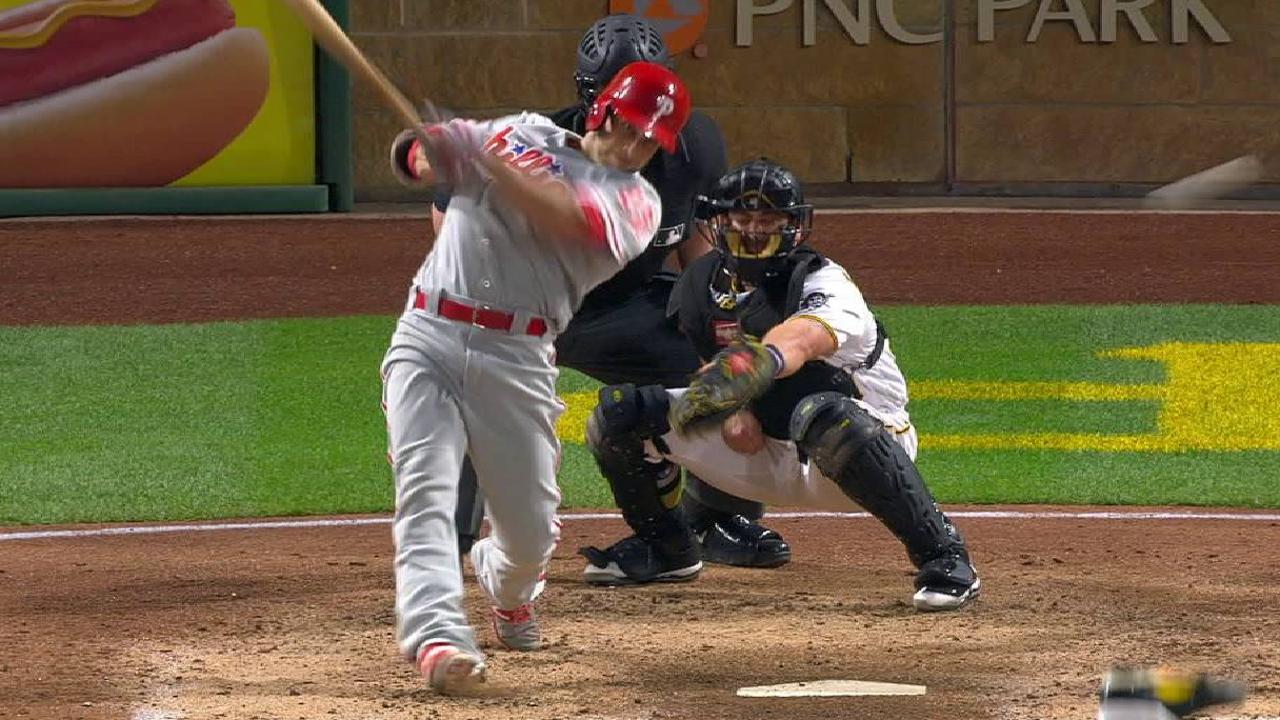 "It's tough. I still have to go out and make big pitches in that situation," Williams said. "We had second and third, I was going to try to limit the damage as much as I could, then we got two pitches and two outs after that. Didn't necessarily do my job keeping them off home, but we limited the damage as much as we could." More >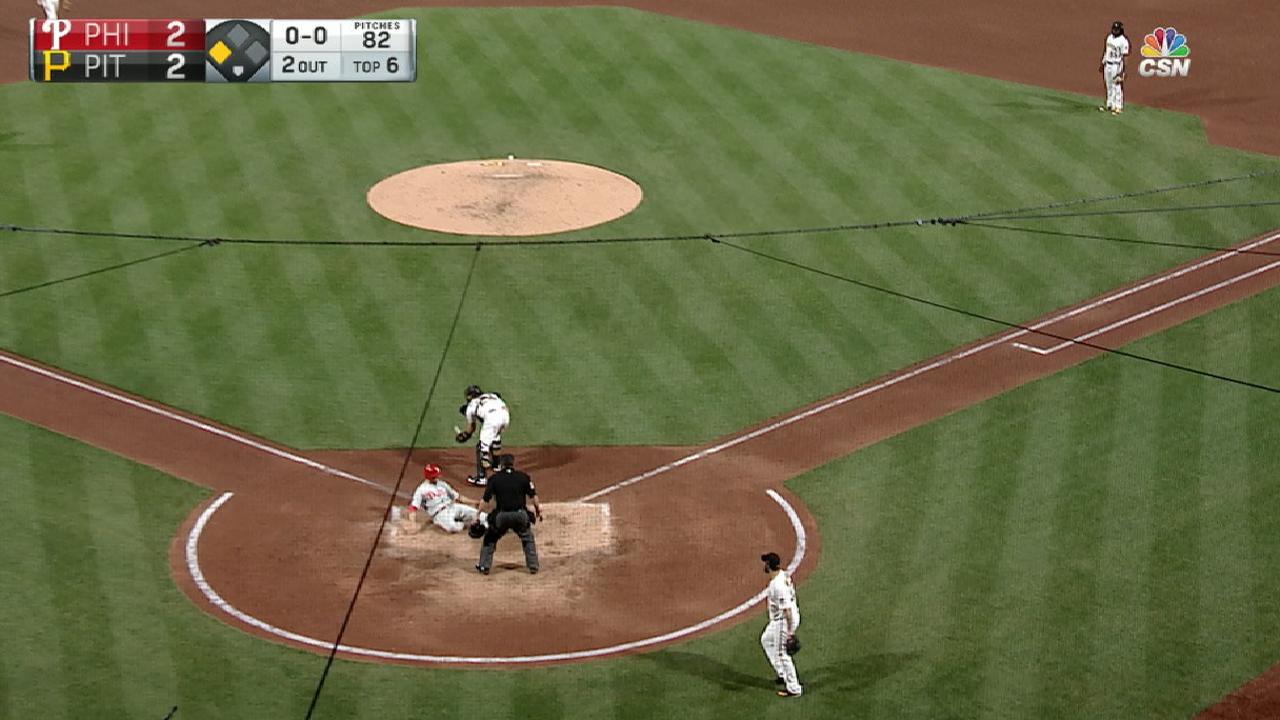 Free run: Hellickson was in position to get out of the first inning after only one run, as Francisco Cervelli hit a two-out grounder to Galvis at shortstop and began jogging down the first-base line. But Galvis' throw, well short of Joseph, bounced over the first baseman and into foul territory. Bell scored from second on the play, giving the Pirates an early two-run lead.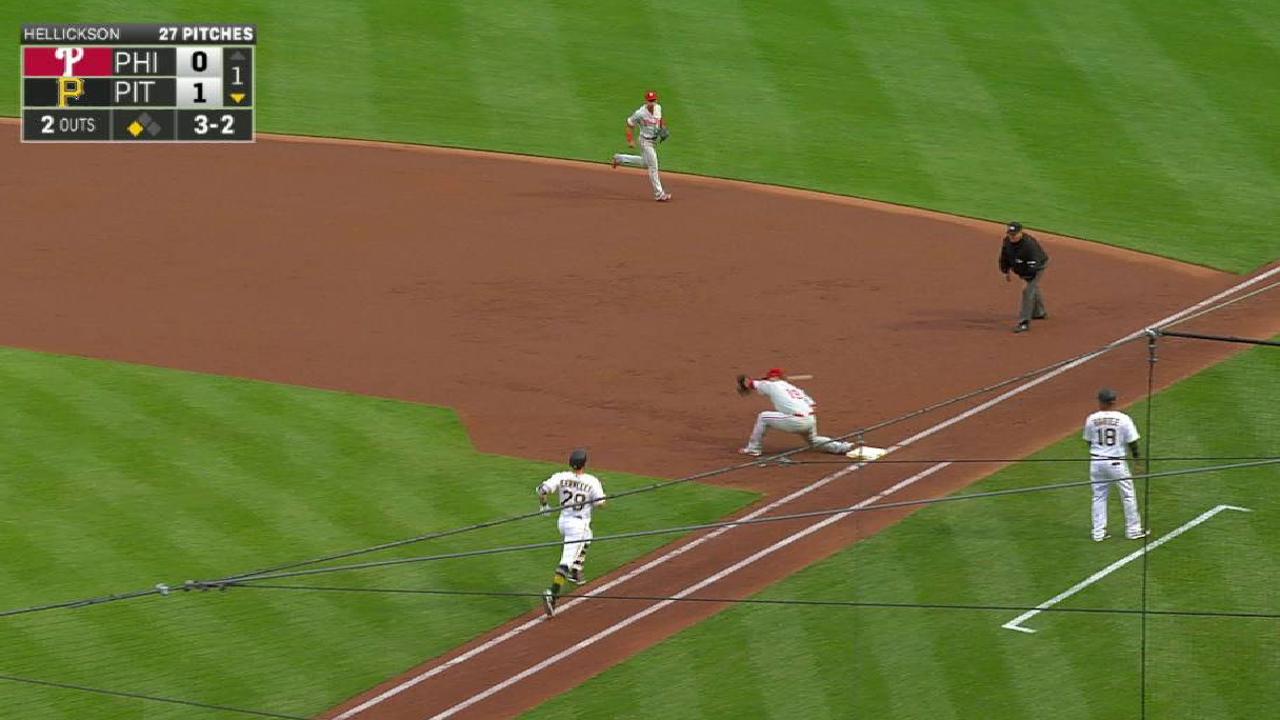 QUOTABLE
"Pete told me to try and pull the ball, so that's what I was trying to do. Finally did pull one." -- Hellickson, on his seventh-inning double, which scored an insurance run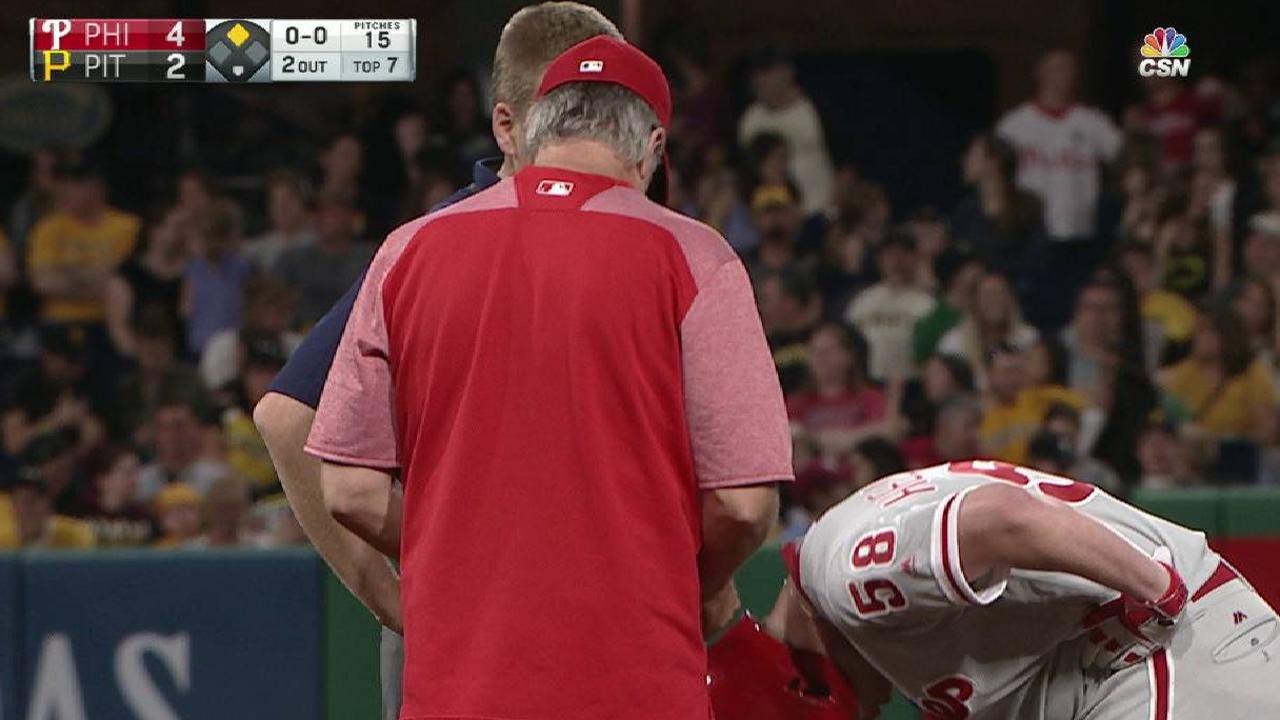 "Everybody that plays this game goes through those times where it's like, 'All right, man, I'm human. I can only take so much before I'm ready to snap.' But we get a chance to play 162 games. As many times as we go through that stretch, we know there's going to be other stretches where pitchers are looking at us like, 'Hey, I'm ready to snap his bat.'"-- Harrison, on the Pirates, who lost six straight before winning four of their last six
SOUND SMART WITH YOUR FRIENDS
Bell, who doubled in the first inning, has an extra-base hit in seven straight games. The last Pirates player with an extra-base-hit streak longer than that was Sid Bream, who put together an eight-game streak from May 6-14, 1986.
WHAT'S NEXT
Phillies: Right-hander Vince Velasquez (2-3, 5.63 ERA) pitches Saturday in the second game of a three-game series against the Pirates at PNC Park at 4:05 p.m. ET. Velasquez hopes to give the bullpen a break and pitch six or more innings. He has pitched five or fewer innings in four of his first seven starts this season.
Pirates: Right-hander Ivan Nova (3-3, 2.48) will start for the Pirates as they continue their three-game series against the Phillies on Saturday at PNC Park. Nova has pitched at least six innings in each of his eight starts this season, including a six-inning, three-run outing against the D-backs on Sunday.
Watch every out-of-market regular-season game live on MLB.TV.
Adam Berry has covered the Pirates for MLB.com since 2015. Follow him on Twitter and Facebook, read his blog and listen to his podcast.

Todd Zolecki has covered the Phillies since 2003, and for MLB.com since 2009. Follow him on Twitter and Facebook and listen to his podcast.

This story was not subject to the approval of Major League Baseball or its clubs.