Jaso breaks out with catalyzing performance
Dealing with slump, Bucs outfielder draws bases-loaded walk and homers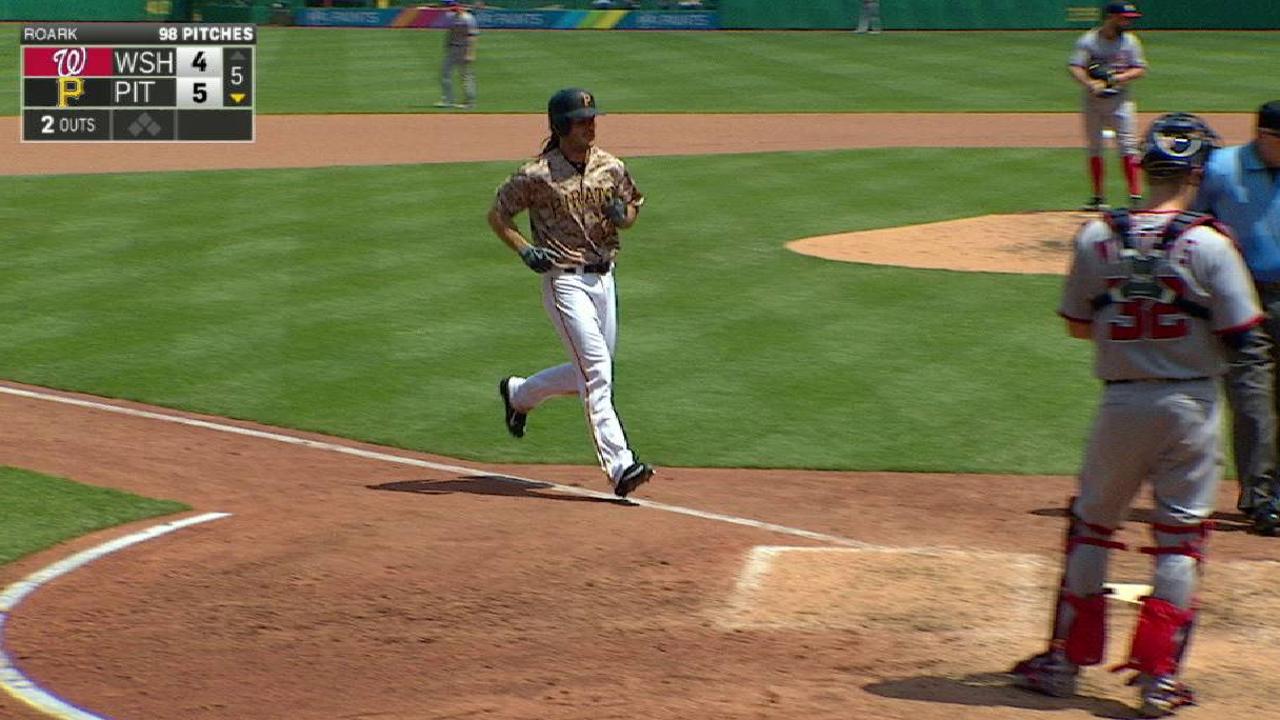 PITTSBURGH -- Like a handful of other Pirates hitters this season, John Jaso has felt better than he's often looked this season. Certainly better than his numbers look, at least.
After walking four times over the past two days and drilling a go-ahead home run to center field in Thursday's 10-4 win over the Nationals at PNC Park, there may be reason to believe Jaso is ready to put a rough start behind him.
"I feel good about the way that I've approached things. Obviously, the results I'm not very happy about," Jaso said. "Everybody goes through slumps. ... It's a grind. You just keep playing and move on to the next day. Don't carry those bad vibes with you from whatever happened before. You just keep going."
Thrust into a more prominent role and a relatively new position -- right field -- Jaso has dealt with a more severe slump than most this season. He was hitless until April 19, and he entered Thursday batting .160.
Jaso has been an above-average hitter throughout his career, and the Pirates believe his season will turn around. On Thursday, he displayed the offensive attributes -- patience and power -- that drew Pittsburgh to him.
With the bases loaded and nobody out in the third inning, Jaso fell behind Nats pitcher Tanner Roark, 2-1, but he fought back to work a run-scoring walk.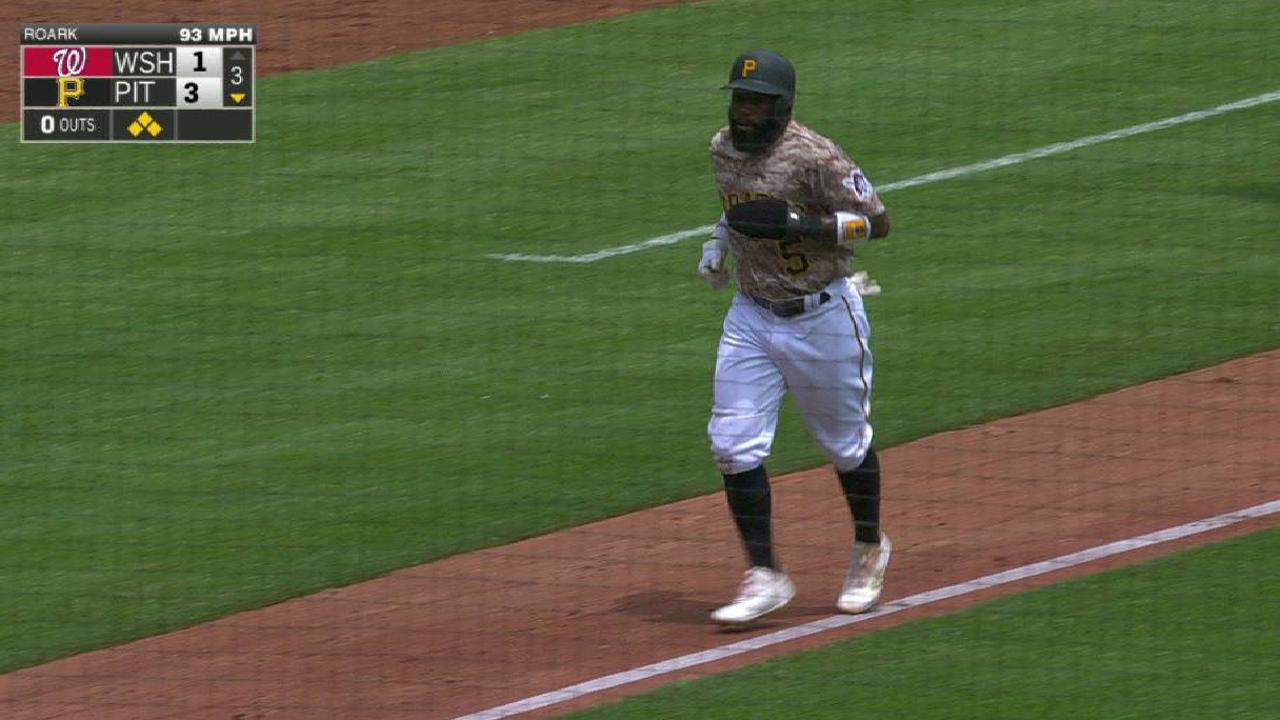 "That's why he's here. It's why he's played in the game for such a long period of time," first baseman Josh Bell said. "It's just professional at-bat after professional at-bat. It doesn't surprise me at all."
With two outs and the game tied in the fifth, Jaso crushed an 83-mph changeup from Roark into the Nationals' bullpen. The ball came off Jaso's bat at 101.5 mph, according to Statcast™, and traveled a projected 430 feet. It was the longest home run Statcast™ has tracked by Jaso and the Pirates' fifth-longest of the season.
"I was looking to drive the ball to the middle of the field. That was exactly what I was trying to do," Jaso said. "I didn't expect to hit a homer or anything. I wasn't trying to. Just trying to take a smooth, easy swing to the middle of the field. The ball, it just jumped."
Jaso's homer put the Pirates ahead, and they went on to win for the fourth time in their past five games. They have averaged five runs per game during that stretch after a six-game losing streak in which they scored only 13 runs.
"I think things are looking good," Jaso said. "We'll just go with that and keep going."
As will Jaso. His .179 batting average on balls in play is well below his career mark of .294, suggesting he has been the victim of some bad luck. It will be hard to climb out of the statistical hole the last six weeks created. All Jaso can do, he said, is continue working with a positive attitude and hope the results follow suit.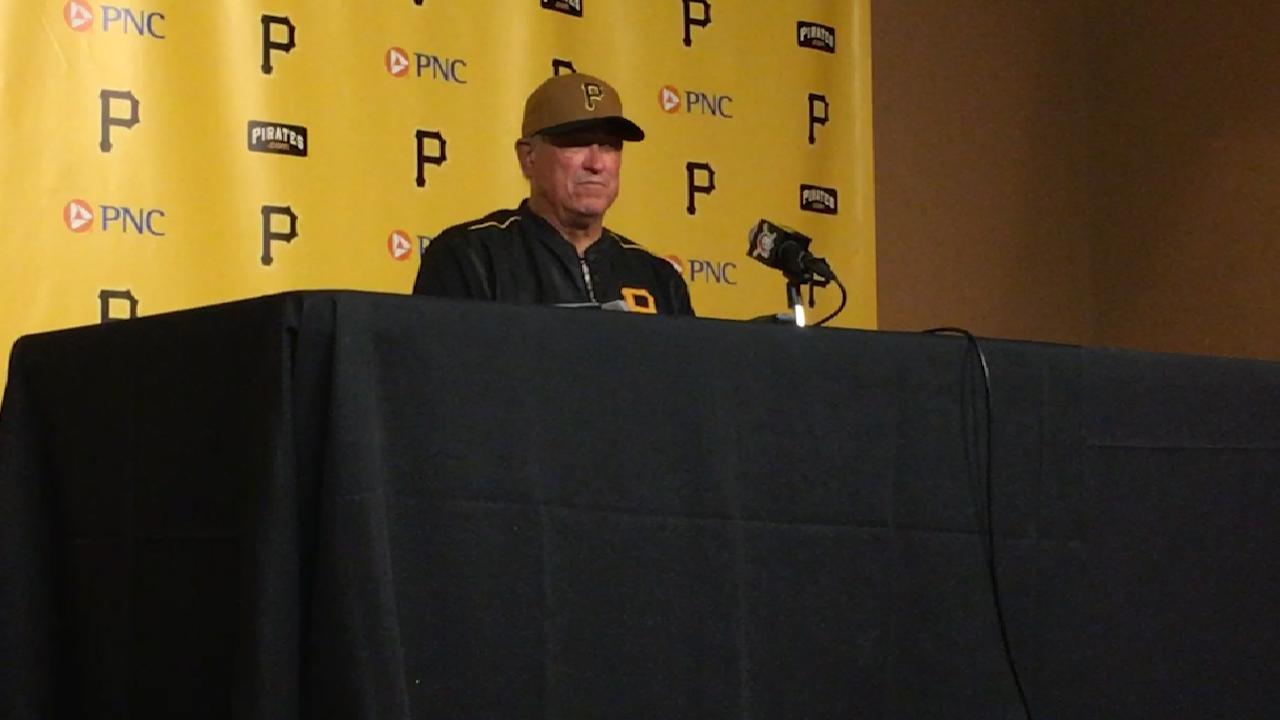 "He's done it before," Pirates manager Clint Hurdle said. "At this level, a lot of people quit on you when you don't get off to a good start. The great thing about what we do is it's not fantasy baseball. It's real baseball. You can't just move players around, left, right and the other way.
"You give them a chance to work, a chance to play. You believe in the back of the card and the resume and show some support. More often than not, they show up for you. John's shown up well. He's had a nice little stretch."
Adam Berry has covered the Pirates for MLB.com since 2015. Follow him on Twitter and Facebook, read his blog and listen to his podcast. This story was not subject to the approval of Major League Baseball or its clubs.