Bell adds glovework to improved pop at plate
Not yet a nine-inning defender, rookie feels more comfortable at first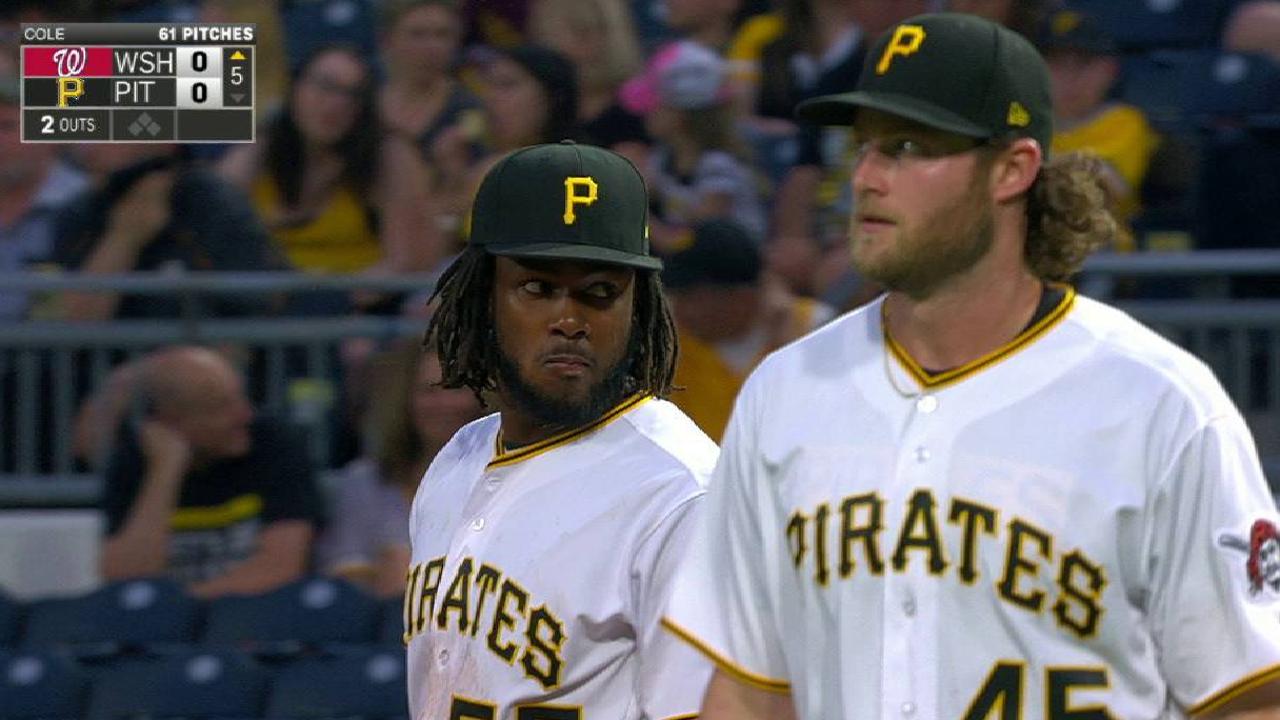 PITTSBURGH -- When he reached the Majors last year, there were two questions about Josh Bell: Would the high-average hitter show more home-run power? How would the former outfielder handle himself at first base?
All Bell has done this season is lead the Pirates in home runs and quickly emerge as a steady defender. Entering Thursday's series finale against the Nationals at PNC Park, Bell had eight homers, a .500 slugging percentage, only one error and two Defensive Runs Saved -- behind only David Freese and Josh Harrison among all Pirates players.
On Thursday, the rookie hit cleanup for the first time in his Major League career and launched a two-run homer in his first at-bat against Tanner Roark.
"Try not to do too much. Stay with my game plan and get after it," Bell said. "I've been swinging the bat all right as of late, so I feel like guys are going to approach me differently anyway."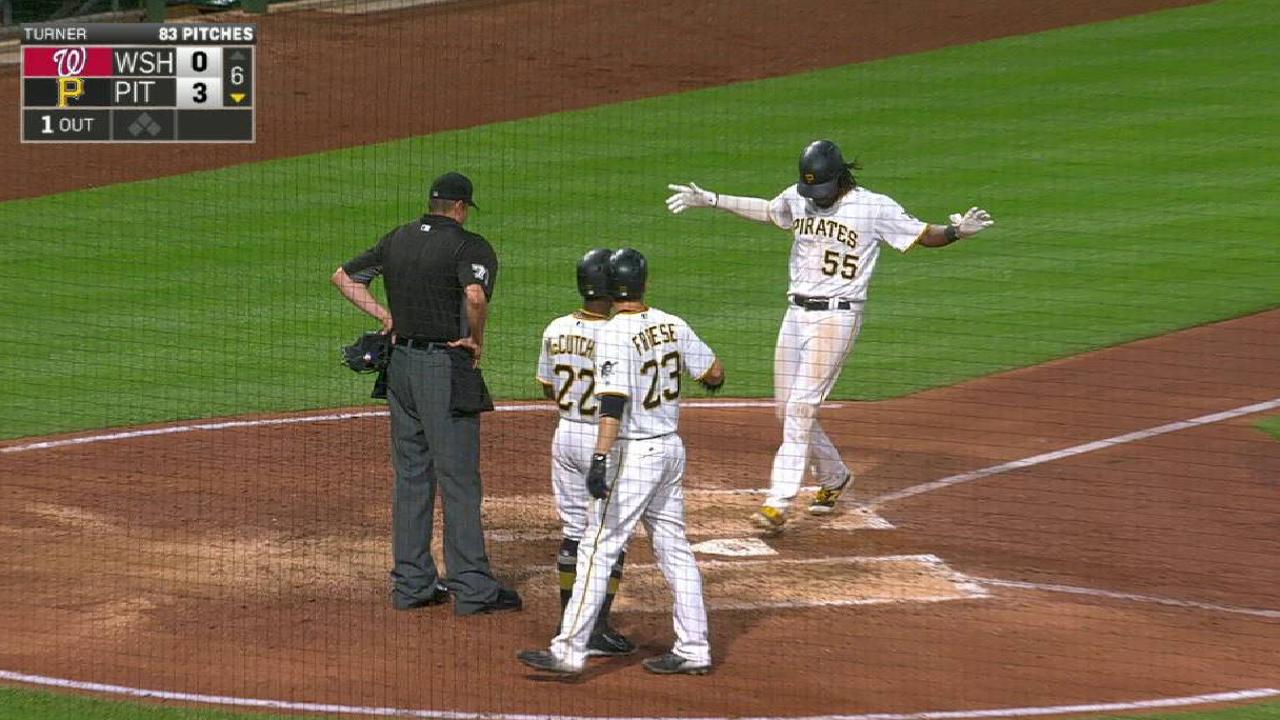 Bell also made a pair of sharp plays to his left during Wednesday night's game. Bell was an outfielder until the fall of 2014, when he moved to first base. It has been a work in progress, but Bell appears to be fielding his position more quickly and decisively than before.
"I don't want to speak too soon or anything, but I'm definitely working toward success over there at first base," Bell said. "I try to get my work in every day. If I do that, I'm confident going into the game.
"When balls are hit my way, there's not that gasp. It's more like, 'OK, I've been here before. I've had thousands of balls hit my way, so let's get after it.'"
Manager Clint Hurdle can identify with Bell's transition. Hurdle made the same switch during his playing career, and he has overseen a handful of similar moves with the Pirates. Over the last few years, the Bucs shifted Pedro Alvarez from third to first base and added first to John Jaso's repertoire. It's not as simple as putting on a new glove and instantly succeeding.
"If you're truly a Pittsburgh Pirate fan and you haven't picked up on that in the last seven years, shame on you," Hurdle said. "We've lived it here on both sides of it. ... It's a lot more involved."
Hurdle said Bell is improving and "making strides in a positive fashion in a lot of different areas," but he's not ready to call the first baseman a finished product just yet.
That shows in the Pirates' decision-making. As they did for Alvarez and Jaso early on in 2015 and '16, the Bucs typically pull Bell when they have a lead in the late innings. Sean Rodriguez played the role of defensive replacement the past two years, but that job now belongs to Jaso and Jose Osuna.
Why do they continue to replace Bell? Simply put, the Pirates want their best defense on the field with the game on the line, and they view Osuna and Jaso as superior, more experienced defenders at this point.
At what point, then, will they feel comfortable leaving Bell in for a full game at first base?
"It's not quantifiable, and I've got nothing to share here on some certain sauce or recipe or equation. It's my eyes," said Hurdle, who has daily discussions with infield coach Joey Cora about Bell's work and development. "You look forward to that day. However, when you have a better opportunity -- a guy that's got better skills -- they need to be out there at the time. ... I want my best defense on the field."
Adam Berry has covered the Pirates for MLB.com since 2015. Follow him on Twitter and Facebook, read his blog and listen to his podcast. This story was not subject to the approval of Major League Baseball or its clubs.