Cutch grabs two hits, stolen bags in big night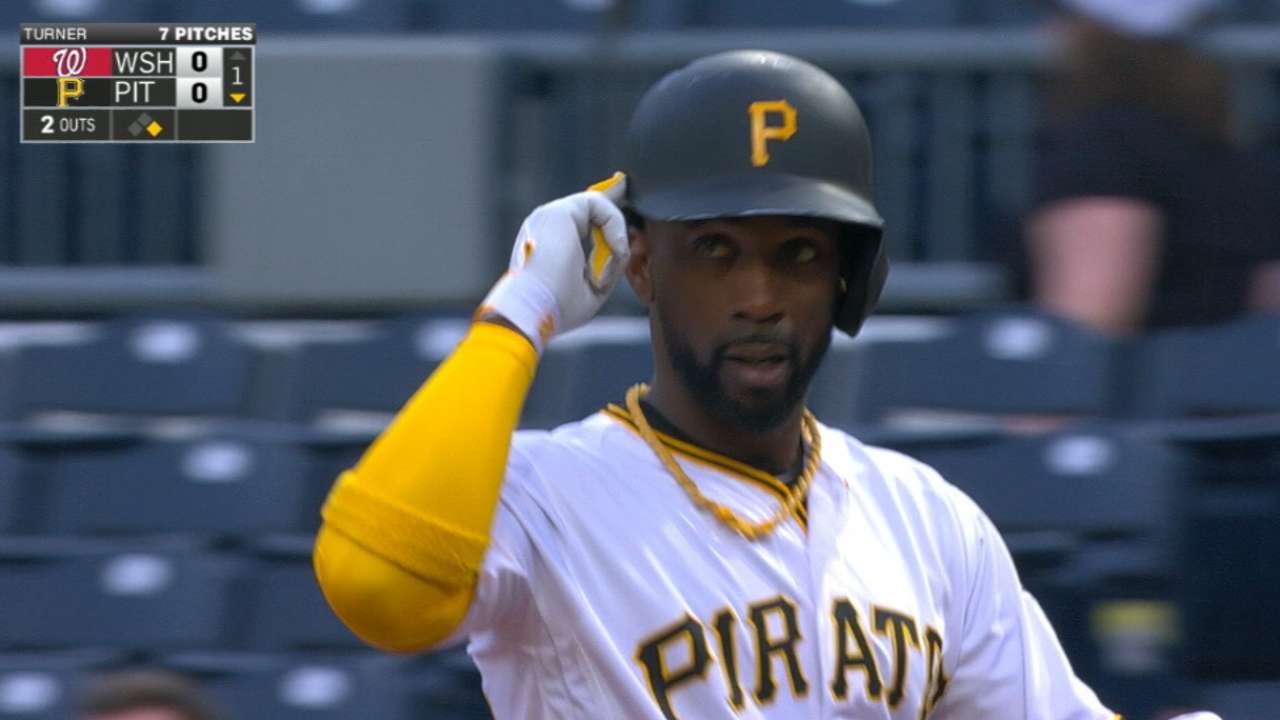 PITTSBURGH -- With nobody covering the bag, Andrew McCutchen swiped third base in the sixth inning and scored on Josh Bell's home run. An inning later, he stole second and eventually scored on a sacrifice fly, the final run in the Pirates' 6-1 win over the Nationals.
It was McCutchen's first multiple-steal game since July 10, 2014. McCutchen was on first base four times Wednesday night -- twice on a fielder's choice and twice following a pair of hits. Why so aggressive on the basepaths? That might have had more to do with it being McCutchen's first multi-hit game since April 28.
"That's what happens when I get on base more than once. I can do that," McCutchen said. "The more I start to get on base, the more I have the opportunity to be able to do that. Just looking forward to hopefully going from here and having that opportunity more and more often."
It has been a tough six weeks for the Pirates' franchise player. For the most part, he has felt better than his numbers look. Yet a quarter into the season, the former Most Valuable Player Award winner is batting just .214 with a .679 OPS, even after a two-hit, two-RBI night.
McCutchen has hit into some hard luck, carrying a .225 batting average on balls in play -- more than 100 points below his career BABIP. So it was reassuring, in a way, for him to watch his first-inning bloop find grass between left fielder Jayson Werth and shortstop Trea Turner.
"It's always a good way to start out, especially getting that first one out of the way in your first at-bat. It works that way," McCutchen said. "That's how guys hit .300. You're going to hit some balls hard and you're also going to drop some in. It was good to get that first one started and go from there."
With a two-run lead in the seventh, McCutchen ripped a line-drive single to right field. Adam Frazier scored from second, and John Jaso scampered home from first base. McCutchen's hit to put the game away came about eight hours after his work day began with round after round of early batting practice at PNC Park.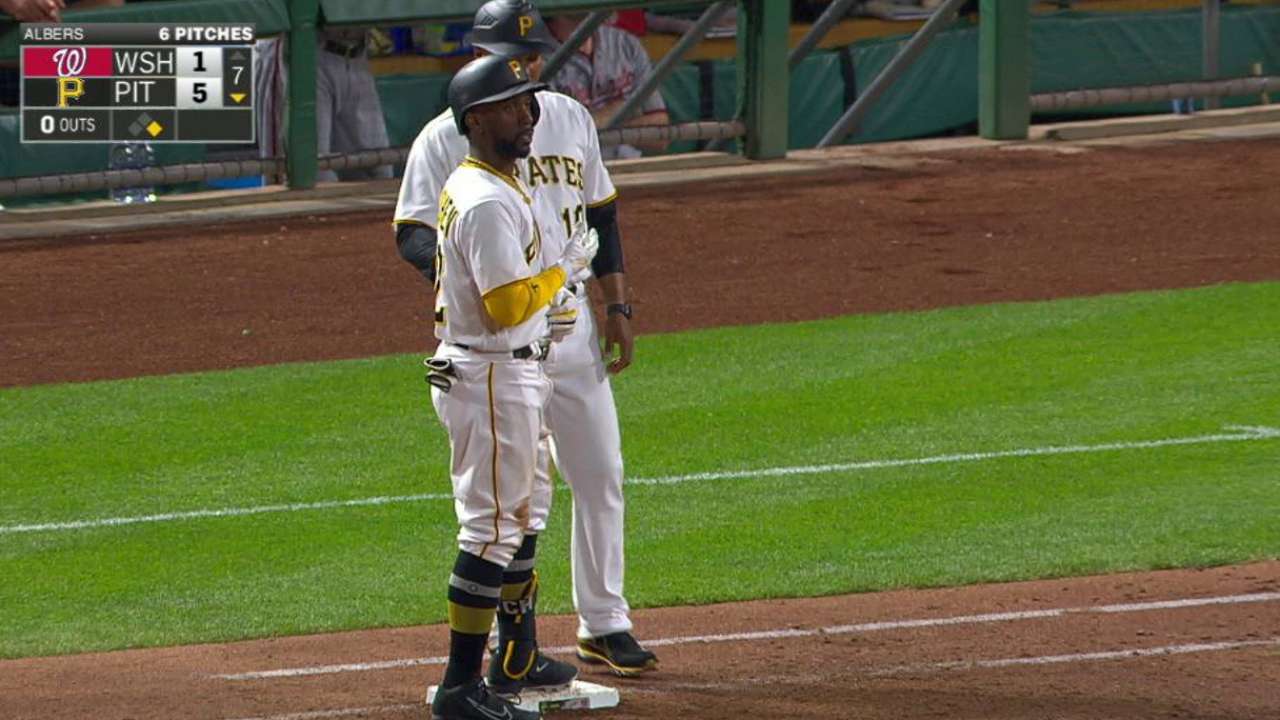 "We've got to stay behind him. We've got to continue to support him. He's going to fight, scratch and claw to be the best player he can be," Pirates manager Clint Hurdle said. "When Andrew's been good, we've been good. He works extremely hard, and he knows what he's capable of doing. He's going to keep working in that fashion."
McCutchen's solid game also took place immediately after an episode that got fans and media buzzing Tuesday night. After striking out in the seventh inning of an 8-4 loss, McCutchen was removed from the game as part of a double-switch. Hurdle made the decision for justifiable tactical reasons that wound up playing out on the field, but it raised eyebrows inside the Pirates' clubhouse.
Hurdle said he would have made the decision under any circumstances, regardless of McCutchen's numbers, because he needed to get pitcher Wade LeBlanc into the that spot in the lineup. McCutchen said the move didn't motivate him, but it did catch his attention.
"Just upset at it, angry at it -- but angry at myself, that's it," McCutchen said. "That's final for me. I know I'm better than that. Just have to go out there and show it."
On Wednesday, McCutchen showed it at the plate and on the bases.
"Hopefully today is a start," McCutchen said, "and we'll be able to go from here and have that not happen again."
Adam Berry has covered the Pirates for MLB.com since 2015. Follow him on Twitter and Facebook, read his blog and listen to his podcast. This story was not subject to the approval of Major League Baseball or its clubs.