Bell making adjustments to inside fastballs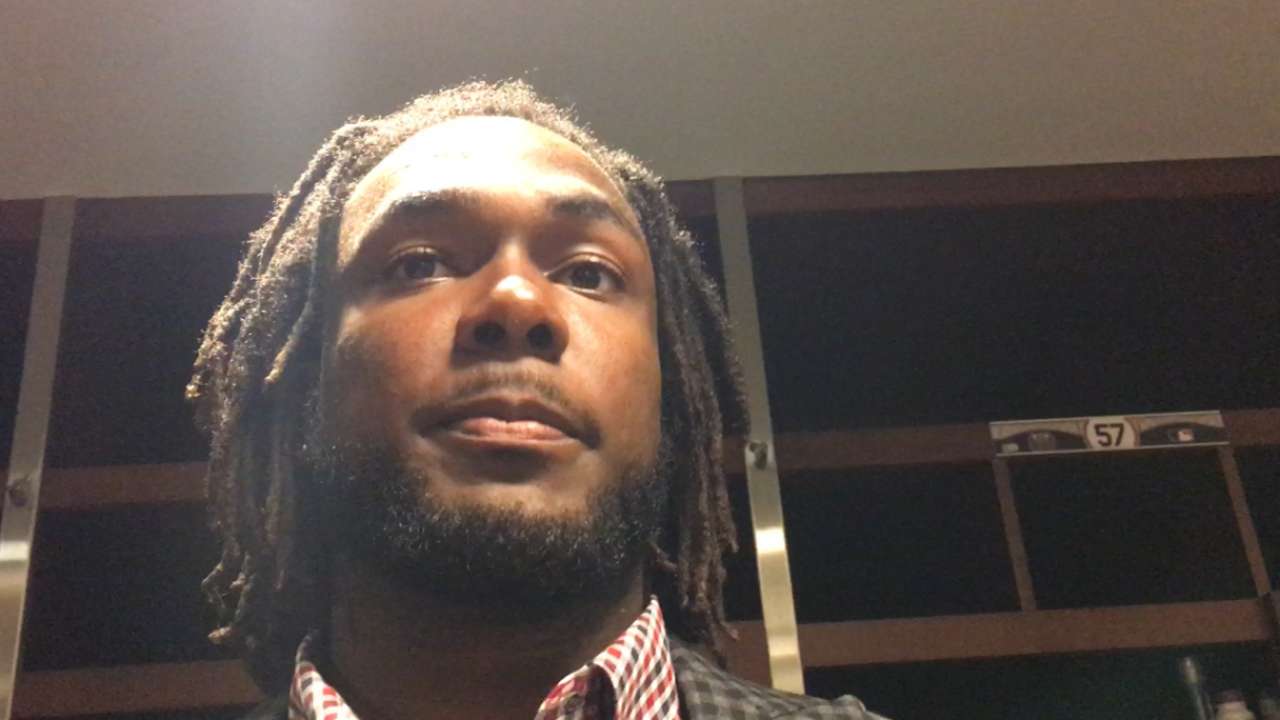 ST. LOUIS -- Josh Bell was sitting in the corner of the visitors' clubhouse at Busch Stadium on Wednesday morning, a bat in his hands, practicing his setup from both sides of the plate.
It hasn't been an ideal start for the switch-hitting rookie, who entered Wednesday batting .200/.273/.250 with six strikeouts and four walks. And it isn't hard to figure out what's been troubling the highly touted first baseman. Despite his struggles, Bell slugged his first homer of the year Wednesday off of Cards starter Michael Wacha in the 2-1 loss. The pitch was a fastball over the middle of the plate.
After a successful debut last season in which Bell recorded more walks than strikeouts and showed a knack for spraying line drives to all fields, the league is striking back. Specifically, opposing pitchers are busting him with inside fastballs.
Asked how pitchers are counter-punching Josh Bell, Hurdle said check the heatmaps. Here they are, 2016 vs. '17, batting LH. Pounding him in. pic.twitter.com/FJKJgLgxY5

— Adam Berry (@adamdberry) April 19, 2017
"I'm going to have to get them out of that area in order for me to continue to do damage the way I'd like to," Bell said. "It's about getting my foot down on time, having my body in the correct position to get my hands extended on a fastball inside. That's where they've been living for me."
For Bell, standing closer to the plate this year, the challenge is to control the inner half while still covering the outside of the zone, where he can extend his arms and hit for the kind of opposite-field power he showed last season.
"Right now, it's just grind mode. Put the barrel on the ball and try to do the most I can do to help the team," Bell said. "I feel like I'm right there, though. I feel like I'm getting close."
Bell saw signs of progress in his final at-bat Tuesday night, even though he struck out. Cardinals closer Seung Hwan Oh started off Bell with three pitches, all fastballs down and in. Bell took one for a strike, whiffed at the second and fouled off the third.
The fourth pitch was a slider in the dirt, and Bell took two more fastballs -- both up in the zone -- to work the count full. Oh went down and in again, and Bell again fouled it off. The last pitch was out over the plate, but it was below the strike zone. Unable to check his swing in time, Bell struck out.
Bell's patience stood out more than his power last year. He posted a .368 on-base percentage in 152 plate appearances, drawing 21 walks while striking out 19 times. He has been more aggressive this season, and the numbers show it. Bell has swung at 34 percent of pitches outside the zone, up from 24.8 percent last year, and he's making less contact (62.9 percent this year, 73.6 percent last season) on those pitches.
"The league has punched back. He's well aware of it, where they threw him last year and where they're throwing him this year," manager Clint Hurdle said. "He's been more aggressive, and sometimes it's been unbridled. That's sometimes trying to figure some things out.
"He's been good in the box throughout his career. That's one of his strengths, swinging the bat. He's working on learning now."
Adam Berry has covered the Pirates for MLB.com since 2015. Follow him on Twitter and Facebook, read his blog and listen to his podcast. This story was not subject to the approval of Major League Baseball or its clubs.