Nova takes tough-luck loss after tossing CG
Righty records 4th complete game with Pirates, has walked only 3 during tenure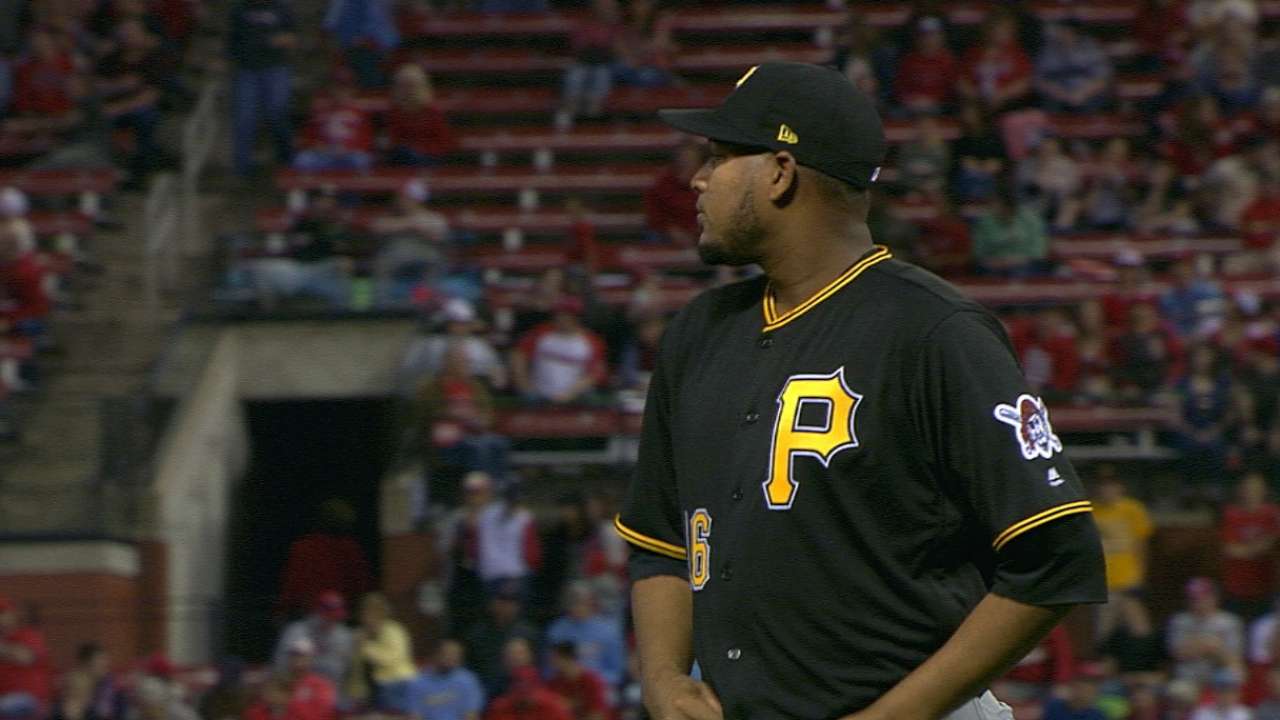 ST. LOUIS -- This may be all you need to know about Ivan Nova's time with the Pirates: He has more complete games (four) than walks (three) in 14 starts wearing black and gold.
Nova added one to his "CG" column and zero to his "BB" total as he tossed an eight-inning, 78-pitch complete game but lost to the Cardinals, 2-1, on Monday night at Busch Stadium. The veteran right-hander held the Cards to five hits and struck out three, pounding the strike zone but paying for one mistake.
"I was trying to be aggressive in the strike zone, make good pitches, throw quality strikes," Nova said. "It helps a lot. I feel like I'm getting the hitter out of rhythm. I have fun doing that, so I try to take advantage of it."
• Sliding Marte among Bucs' defensive gems
Since coming to the Pirates last Aug. 1, Nova has faced 342 batters, struck out 60 of them and walked three. Only one Cardinals hitter worked a three-ball count -- Randal Grichuk in the fourth inning -- and he flied out to right field.
"I'm not afraid to throw strikes," said Nova, who threw 56 of 78 pitches for strikes in his third start of the season. "Just keep my focus on hitting the glove. Wherever whoever's catching me puts the glove, I just try to throw it right there."
With the Pirates unable to find any offense against Cardinals starter Lance Lynn, manager Clint Hurdle faced a decision in the seventh inning. Nova was due up with two outs and nobody on. Do you let him hit or pull a starter who's breezed through six innings on 56 pitches? Hurdle chose to stick with Nova, who greatly appreciated his manager's vote of confidence.
"He's been a guy who's taken care of us," Hurdle said. "I wanted to give him an opportunity to pitch. … I thought he pitched an extremely competitive game."
His lone mistake came in the third inning, which Kolten Wong led off with a solo homer. Nova threw Wong a sinker down in the zone, but it drifted directly into Wong's swing path and landed in the Cardinals' bullpen.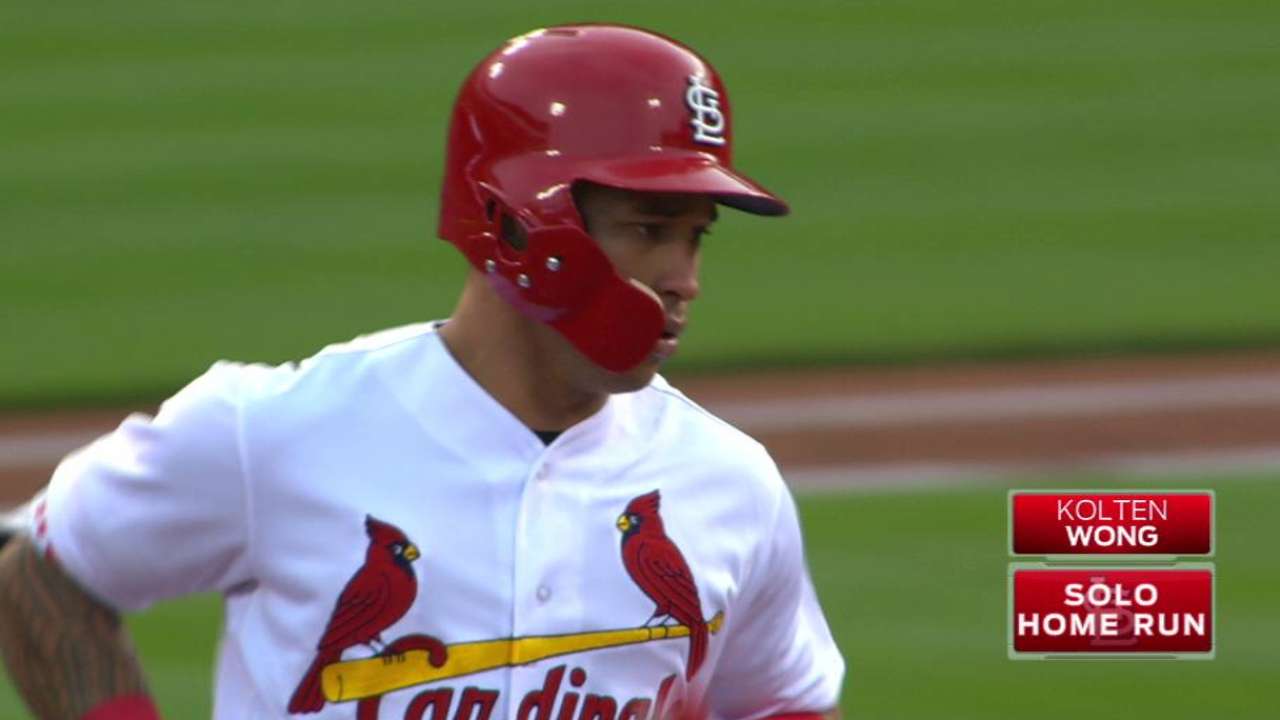 The Cards added what turned out to be a critical run in the seventh. Grichuk singled, stole second and took third as Francisco Cervelli's throw sailed past Josh Harrison into center field, then Jose Martinez drove in Grichuk with a single to center.
"That was pretty impressive," Cardinals manager Mike Matheny said. "He pitched a nice game. That's a few in a row where he's done that."
Nova did his part, keeping the Pirates in the game and giving their bullpen a full day off. Yet he became the first Pirates pitcher to throw at least eight innings in a complete game and lose since Zach Duke did so May 22 and July 10, 2009. Duke is now with the Cardinals.
In the long view, Nova's efficient, in-control performance bodes well for the Pirates' rotation and their chances to compete this season. But immediately afterward, the only numbers Nova worried about were the Pirates' wins and losses.
"The personal stuff right now, it [doesn't] matter. We're trying to help the team win games," Nova said. "I'm here to help the team win, and that's the most important thing."
Adam Berry has covered the Pirates for MLB.com since 2015. Follow him on Twitter and Facebook, read his blog and listen to his podcast. This story was not subject to the approval of Major League Baseball or its clubs.