Polanco produces in pinch in return to action
After sitting out with groin pull, Pirates OF hits RBI double in ninth-inning rally attempt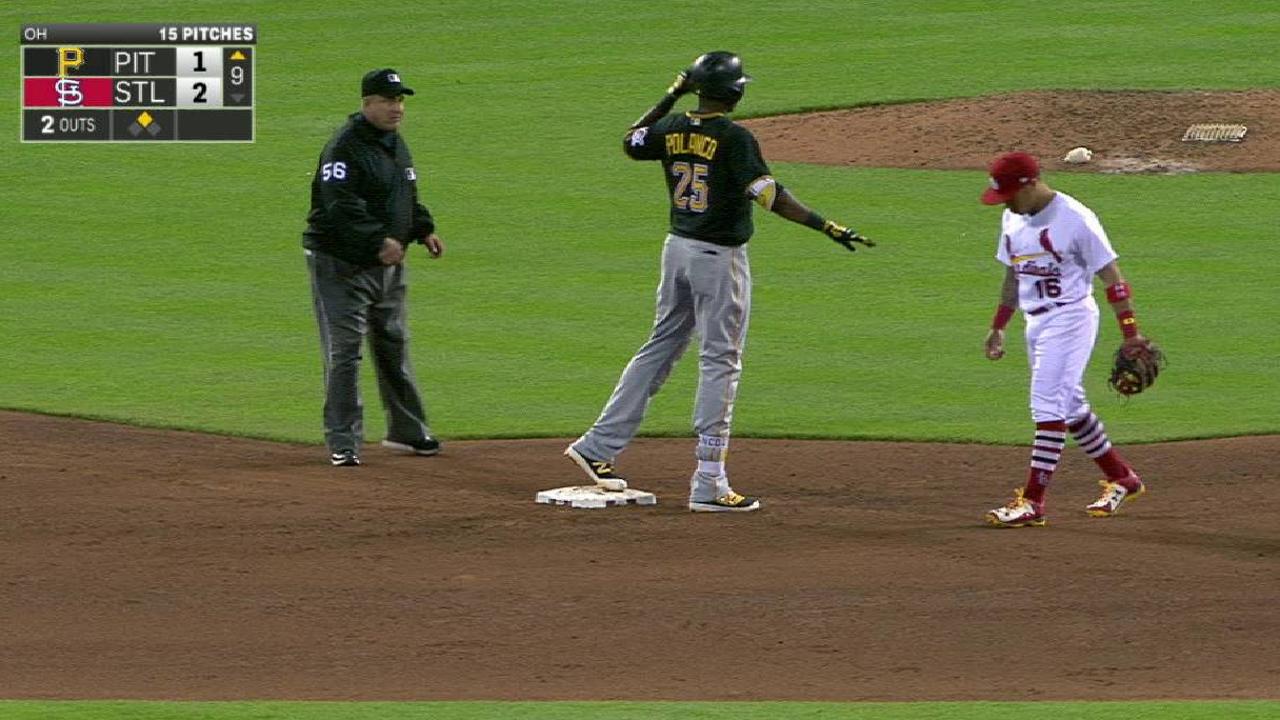 ST. LOUIS -- Pirates left fielder Gregory Polanco was not in the starting lineup for Monday's series opener against the Cardinals at Busch Stadium, but he entered as a pinch-hitter in the ninth inning and hit an RBI double in a rally effort before the Bucs fell, 2-1.
"That's what we were looking for," manager Clint Hurdle said. "It was good to see Polanco stay in the at-bat and get his swing off."
After sitting out Saturday and Sunday due to right groin discomfort, Polanco tested himself in a pregame workout on the field Monday afternoon. Polanco ran, sprinted and cut, clearing the necessary hurdles and declaring himself available off the bench.
"It didn't bother me, so I'm happy to be healthy, stay healthy and hopefully be back in the lineup soon," Polanco said. "I feel a lot better. I think I'm ready to play."
Polanco walked into the visitor's clubhouse at Busch Stadium, a water bottle in each hand and dripping with sweat, and passed along word of his status to Hurdle. Polanco was available to hit but not run in Sunday's series finale against the Cubs at Wrigley Field.
Polanco said he felt a pull in his groin in the sixth inning of the Pirates' 4-2 win over the Cubs on Friday. He ran from first to third on David Freese's single to right, but he stopped near second base and knew something was off when he got to third.
Polanco received treatment the rest of the weekend and said it now feels "a lot, lot better." He did not want to rush back and aggravate the injury. Adam Frazier started in left field for the Pirates on Monday and went 0-for-4.
Appeals hearing set for Kang
Jung Ho Kang has an appeals hearing set for May 25 in South Korea, according to a report from Yonhap News. Kang, who has not yet received a work visa to enter the United States and join the Pirates, received a suspended eight-month sentence in early March following a December arrest for driving under the influence, his third such arrest since 2009.
Kang is reportedly looking to have his sentence reduced to a fine, which may increase the likelihood that he receives a visa. It is unclear if Kang will be punished or suspended by Major League Baseball or the Pirates upon his return.
Kuhl running? Kuhl hitting
Polanco was in the on-deck circle in the ninth inning of the Pirates' 6-1 win on Sunday, ready to hit and give the Pirates some additional breathing room. But Frazier took care of that himself, ripping a three-run homer off reliever Justin Grimm.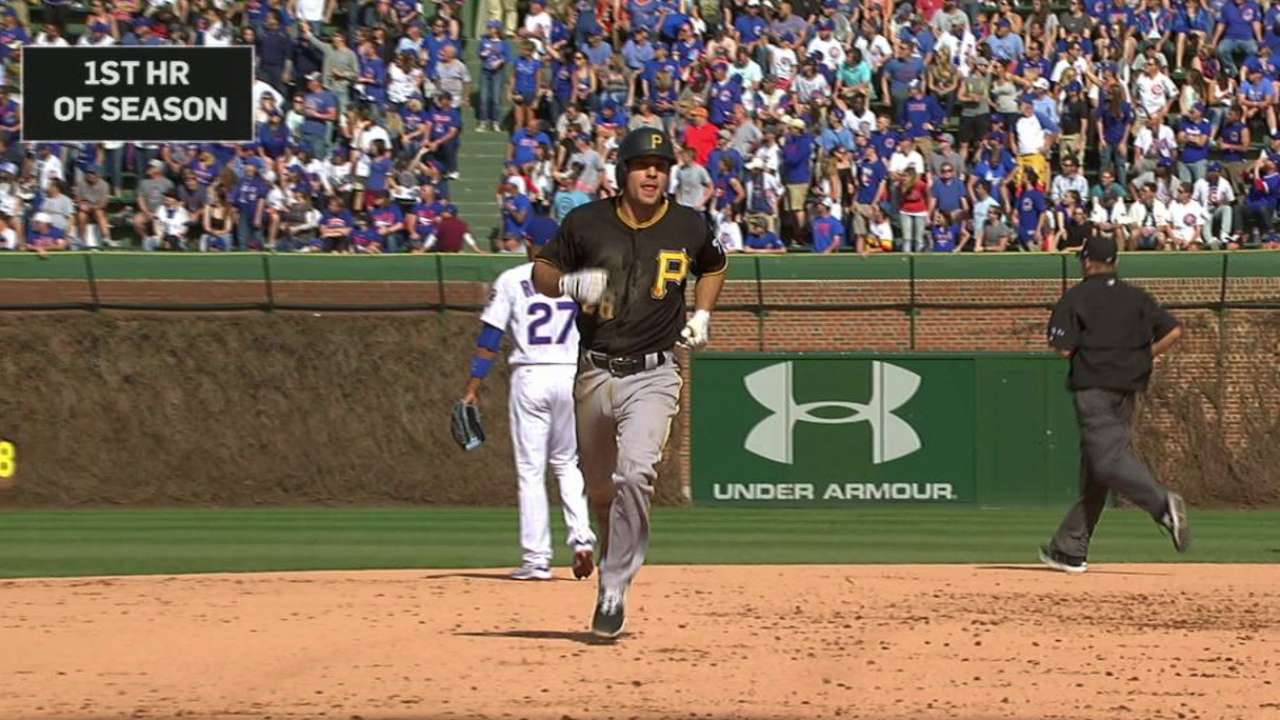 So Polanco retreated into the dugout, and out came starter Chad Kuhl. But why Kuhl?
As it turns out, Kuhl was not preparing to pinch-hit. He was getting ready to pinch-run for Polanco, if he had reached base safely. But there was no reason to push Polanco's sore groin with a five-run lead, so Kuhl -- who had done some sprints in the tunnel -- got the signal that he would instead hit in Polanco's place and grabbed one of Andrew McCutchen's bats.
Kuhl, 4-for-48 with four walks and 16 strikeouts in his professional career, wound up working an eight-pitch walk. His trip around the bases was short, as he was forced out on a double-play grounder.
"Chad threw out a pretty good at-bat," Hurdle said.
Adam Berry has covered the Pirates for MLB.com since 2015. Follow him on Twitter and Facebook, read his blog and listen to his podcast. This story was not subject to the approval of Major League Baseball or its clubs.