Frazier proves his value to Bucs this spring
Utility man plays six positions, poised for key bench role in '17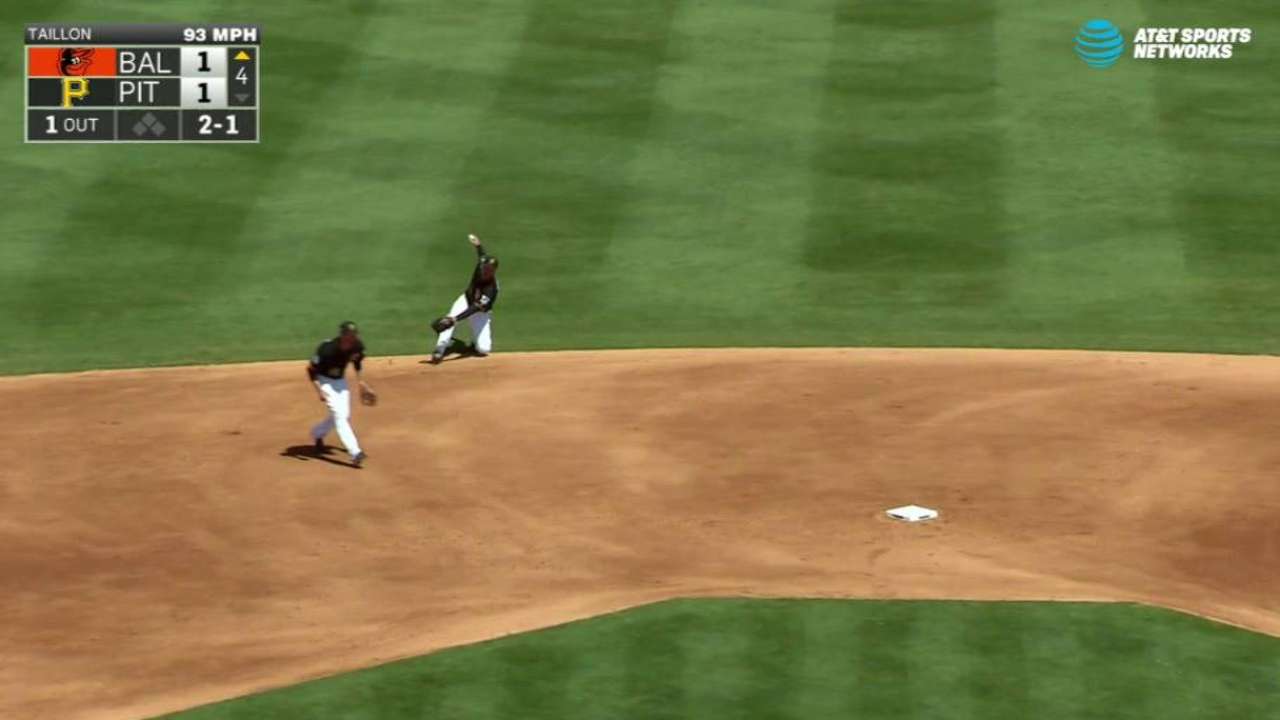 PORT CHARLOTTE, Fla. -- After his first taste of the Major Leagues, Adam Frazier went home last October with a few goals in mind.
He wanted to improve defensively, first and foremost, preparing for every possible position he will play as a super-utility man. He has played just about everywhere this spring, making four starts at second base, three at shortstop, two at third and one in each of the three outfield spots.
Frazier played the entire game at second base Monday at Charlotte Sports Park, making a handful of slick scoops and quick turns in the Pirates' 5-4 win over the Rays.
"He will work, there's no question about that," manager Clint Hurdle said. "The work's been clean. It's been good. … He believes in himself and his own skills, and he knows what he needs to work on. He works to get better in those areas."
This time a year ago, Frazier was fielding grounders on the back fields at Pirate City. He was reassigned to Minor League camp last March 18. But he played his way into the Bucs' plans, earning a call-up in June, and hasn't looked back since.
He learned on the fly about handling a versatile role, from the necessary mental preparation to the actual pregame activities. He's found a routine that works. He takes grounders or fly balls before each game at the position he will play that day. If he's not in the lineup, he'll either focus on one position or bounce around to several different ones.
• Red-hot Osuna putting Bucs on notice
"That was my goal coming in, to play some better defense at each position," said Frazier, drafted in 2013 as a shortstop. "It definitely takes some time. Not being at that same spot every day, you don't have that comfort where you just hop out there and go do it."
If you're looking for Frazier on defense, it's best to double-check the lineup card since he moves around so often. But he's found a comfortable, consistent spot atop the order.
Frazier has hit leadoff in each of his 12 starts this spring. It feels natural for him -- he's hit leadoff most of his life -- and he started there 16 times for the Pirates last year.
"We're going to have to look for someone else [in the everyday lineup] along those lines, but I think he's someone who can definitely hold down that position when he's in the lineup and do a good job with it," Hurdle said.
Frazier's simple approach and smooth lefty swing led to immediate success last season, as he hit .301/.356/.411 in 160 plate appearances. But he realized most of his hits went to left or center field, and he was getting pounded inside more often than in the Minors.
Overall this spring, Frazier is 18-for-40 with a homer, three doubles and seven RBIs. He focused on using his pull side, taking inside pitches to right field. He did it in the fifth inning Monday, ripping a line drive into right field for a single, one of three on the day. The work is paying off.
"I feel like I've done a good job with that. I feel better," he said. "This spring, a lot of my hits have come to the pull side. Just taking what they give me and not trying to get big with it. … If they're pounding in, they're pounding in, and you've got to take what they give you."
Adam Berry has covered the Pirates for MLB.com since 2015. Follow him on Twitter and Facebook, read his blog and listen to his podcast. This story was not subject to the approval of Major League Baseball or its clubs.