Spring or not, Rivero is impressing Hurdle
Pirates skipper: Reliever's pitch execution 'has been fun to watch'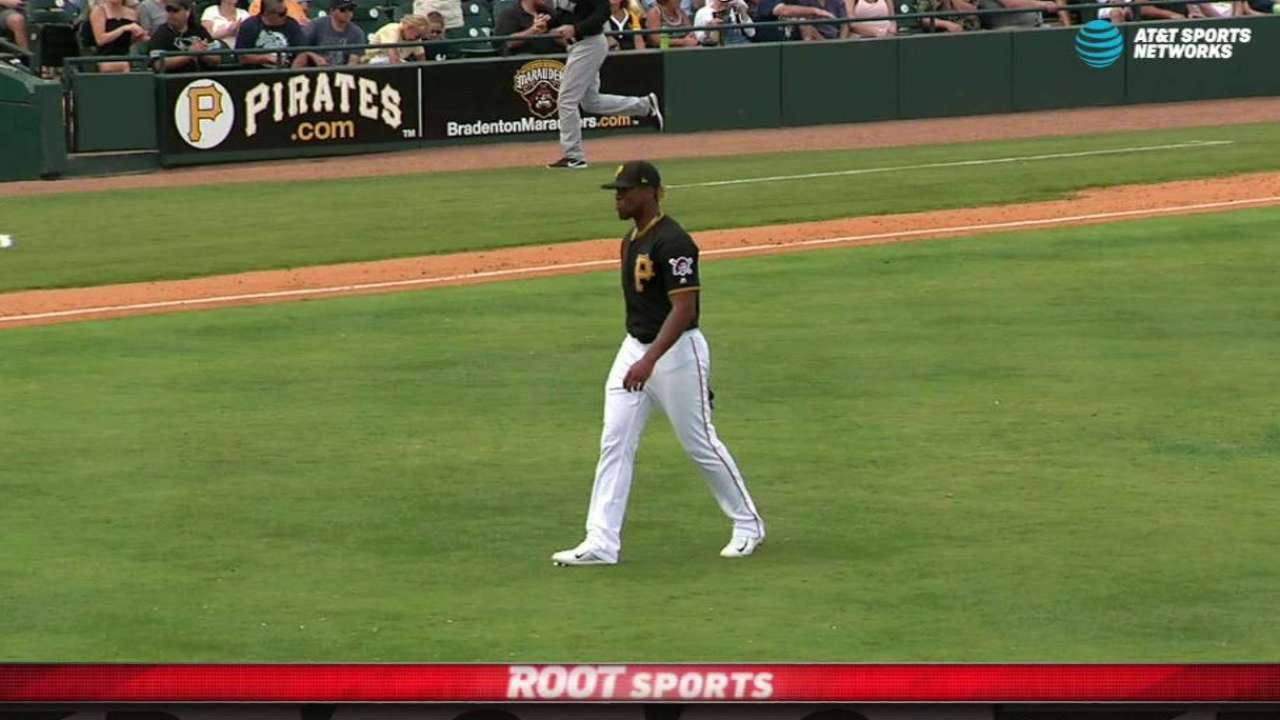 CLEARWATER, Fla. -- It's generally unwise to get caught up in Spring Training results, particularly later in games when regulars are replaced by reserves and Minor Leaguers, but Felipe Rivero is off to a particularly sharp start.
Rivero, the Pirates' left-handed setup man, has worked seven scoreless innings in six appearances. He's allowed one hit while striking out nine. He has not walked a single batter.
"He's controlling what he can control," manager Clint Hurdle said Friday, when Rivero struck out three in two perfect innings. "As far as pitch execution, it's been fun to watch. He doubled up and pitched a second inning and handled that extremely well."
• Spring Training: Info | Tickets | Schedule | Gear
Rivero's high-octane fastball has reached into the upper 90s with regularity. He's throwing all his pitches, keeping opponents off-balance with a mix of changeups, curveballs and sliders. He's thrown his fastball down in the zone and moved it up in the zone for strikeouts.
The absence of walks is perhaps the most encouraging thing for Rivero, who walked 18 in 27 1/3 innings with the Pirates last year. But Rivero is not simply trying to avoid walks; as Hurdle pointed out, he threw a full-count changeup during Friday's outing.
"His mindset is to throw strikes and finish pitches," Hurdle said. "I like where he's going with it.
"One of his comments in his [Spring Training] entrance interview was, 'I need to pound the zone. I gave up too many free passes. I want people to swing the bat to beat me.' He's in tune, he's aware, and so far what he's done is make people swing the bat and stayed ahead in counts."
Around the horn
• Hurdle was not with the team on Saturday. He was attending the funeral of a friend. Bench coach Tom Prince served as Pittsburgh's acting manager at Spectrum Field.
• Elias Diaz caught the entirety of the Pirates' 13-8 win over the Phillies on Saturday and blasted a solo homer into the Phillies' bullpen off former Pirates prospect Joely Rodriguez in the ninth inning.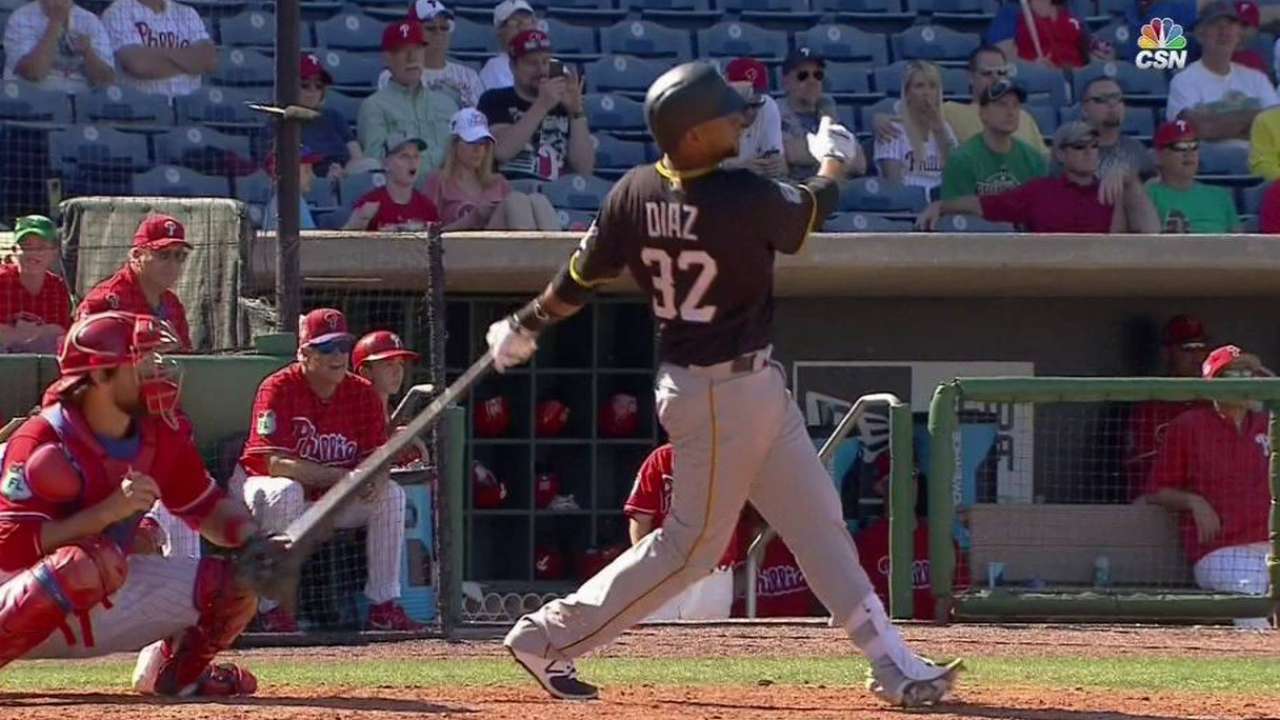 • First baseman Josh Bell recorded his first hit of the spring in the fourth inning, reaching on an infield single. Bell also drew another walk, his fifth in six games this spring.
• John Jaso played five innings in right field Saturday and went 2-for-3 with a home run, four RBIs, a steal, a walk and three runs.
Adam Berry has covered the Pirates for MLB.com since 2015. Follow him on Twitter and Facebook, read his blog and listen to his podcast. This story was not subject to the approval of Major League Baseball or its clubs.