Glasnow revs up in drive for 5th starter spot
Pirates' No. 1 prospect rebounds from down start to fan 5 over 4 sharp frames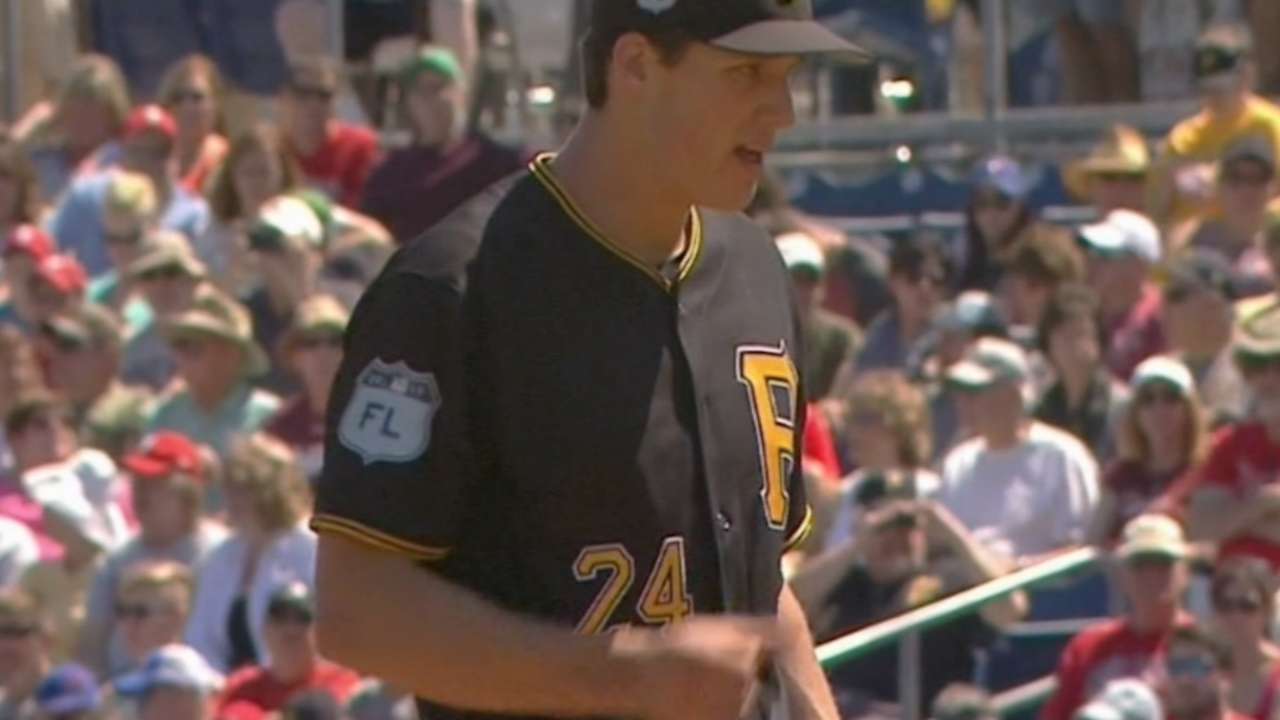 CLEARWATER, Fla. -- Tyler Glasnow had just walked Phillies leadoff man Cesar Hernandez in the first inning of the Pirates' 13-8 win on Saturday afternoon at Spectrum Field when he thought to himself, "I'm not doing this again."
"That was when I kicked into competition mode and everything just washed away," he said.
Four innings later, Glasnow had allowed one run on four hits and two walks while striking out five. Of the Phillies' four hits, only one was hit solidly -- and that was a ground-ball single up the middle -- while the others barely left the infield. He recorded six outs on the ground and only one in the air.
Before Glasnow's start against the Braves on Monday, pitching coach Ray Searage issued a challenge to Pittsburgh's No. 1 prospect: When he was behind in the count, Glasnow could only throw fastballs. He wound up allowing five runs on six hits and a walk in 2 2/3 inefficient innings. Before Saturday's start, Glasnow asked Searage if that plan was still in effect.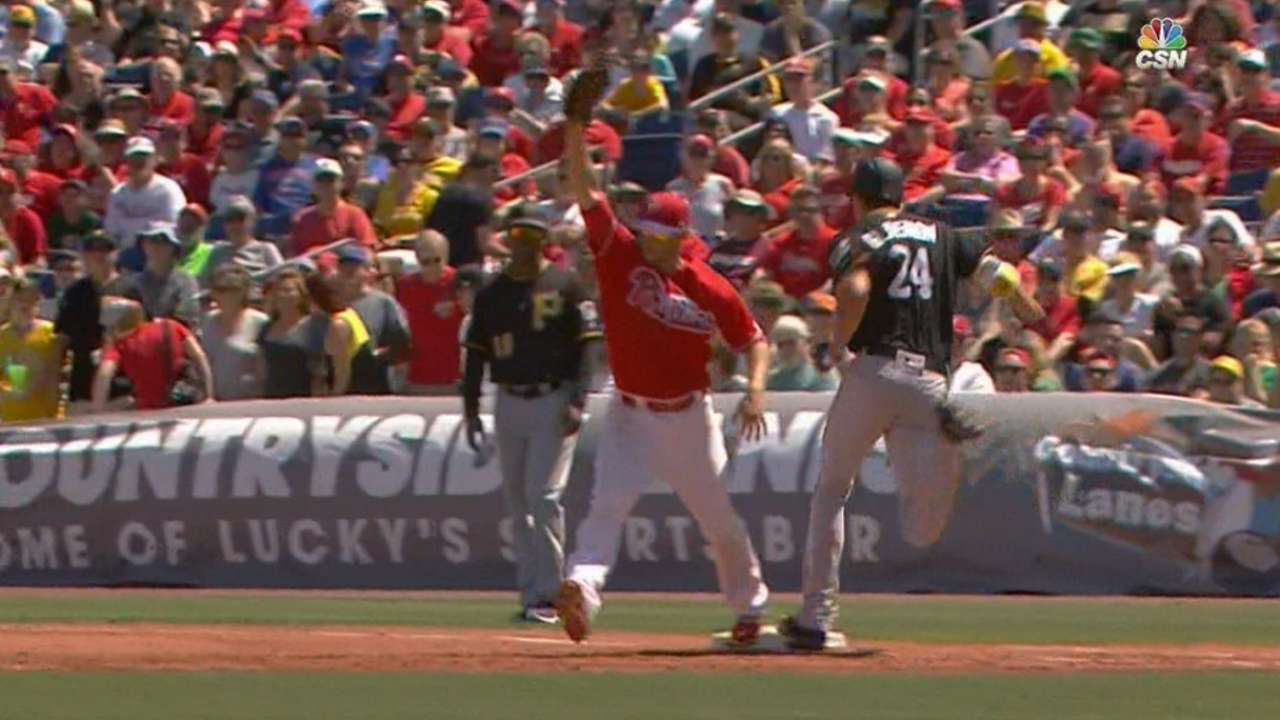 "I go, 'No, kid, that was a challenge that I let you have,'" Searage said. "'I wanted you to get hungry to throw first-pitch strikes and to get ahead with your fastball then you could've thrown your breaking balls.' … He passed with flying colors."
What worked so well? Glasnow leaned on his two-seam fastball and changeup against a lineup loaded with lefties and switch-hitters. He stayed aggressive, got ahead of hitters and focused on his arm speed rather than, as he put it, "throwing with my body."
What Glasnow described as an "a-ha moment" makes the Pirates' rotation competition more interesting as the Bucs enter their final 10 days in Florida. Drew Hutchison has the most experience. Trevor Williams gets ground balls, and Steven Brault is the only left-hander. But Glasnow has the highest ceiling.
Glasnow decided to throw more two-seamers in part because the pitch has felt good out of his hand this spring. He threw it in high school, but the Pirates took it away from him after he was drafted. They gave it back this offseason, and it's worked well for him this spring. Jameson Taillon made a similar switch last season, and the two-seamer turned into his primary fastball.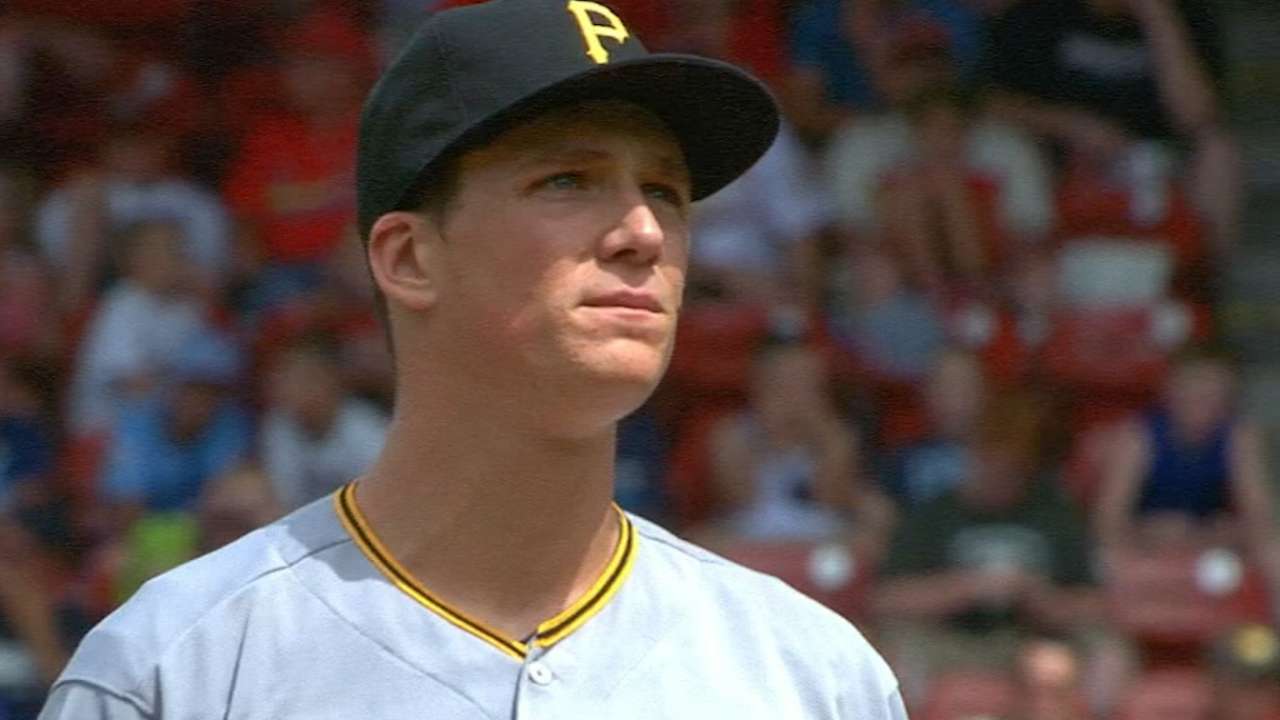 "I don't know why. I just feel a lot better with it," Glasnow said. "If I can locate it more, it's probably going to be a little better. … I'm trying to get more ground balls, especially with my changeup and the two-seam -- that's the Pirates' ground-ball [philosophy]. I think that's something I'm going to stick with."
Glasnow is also going to stick with his changeup, which is effective on its own and in sequence with his other pitches. That showed in one at-bat against Roman Quinn, whom Glasnow set up with an 85-mph changeup then struck out with a 95-mph fastball.
"This is the first time I've really been able to realize how effective a changeup is," Glasnow said.
If Glasnow can consistently put together more performances like Saturday, the Pirates will have an even more difficult decision on their hands.
"We like tough decisions," Searage said. "If they want it, put a foot down and grab it. It's there. The only pressure that's out there is the pressure you put on yourself. Go do your job. They all have the talent to be a Major League pitcher. … We'll have to see how it plays out."
Adam Berry has covered the Pirates for MLB.com since 2015. Follow him on Twitter and Facebook, read his blog and listen to his podcast. This story was not subject to the approval of Major League Baseball or its clubs.