Brault commits to learning from 'selfish' mistake
Prospect's solid outing unravels after issuing walk to lead off 7th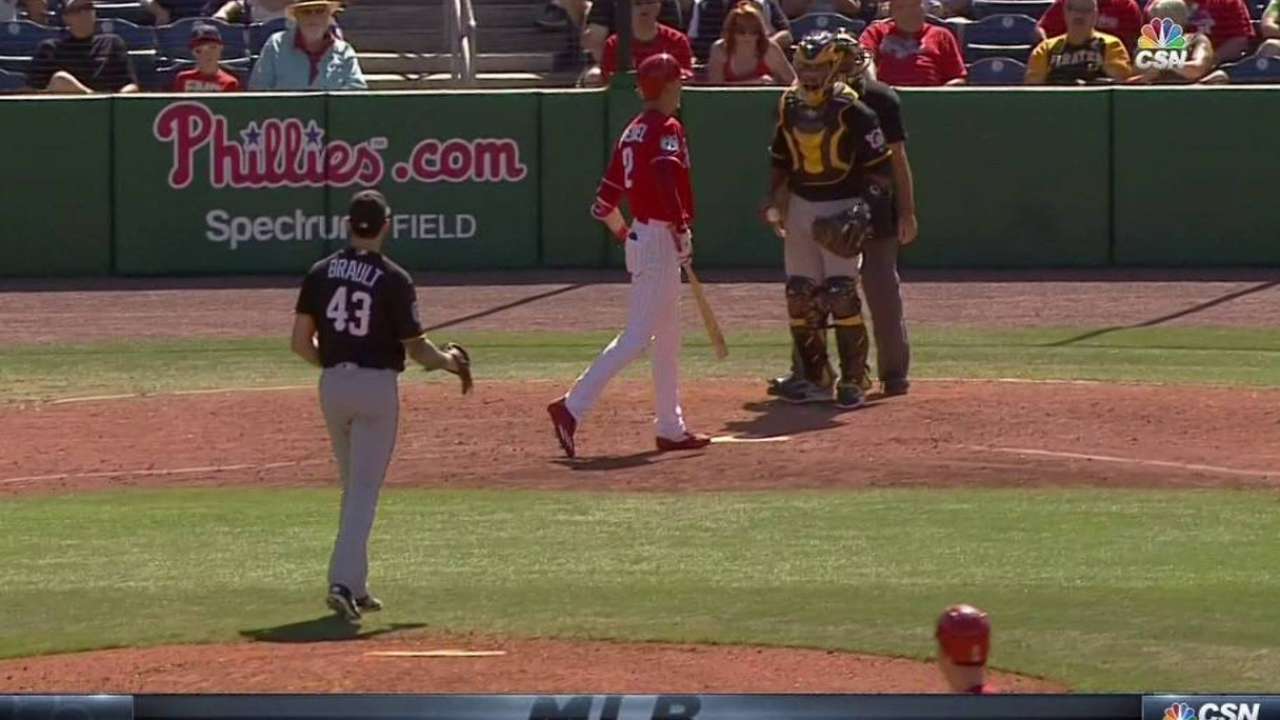 CLEARWATER, Fla. -- Steven Brault had just come out of Saturday's 13-8 Pirates win when he hopped on the exercise bike in the clubhouse and started pedaling. Pirates pitching coach Ray Searage approached him to discuss a mistake, and they both knew what it was.
Brault was ahead of Roman Quinn, one ball and two strikes, to lead off the seventh inning. He could have thrown a fastball inside or dropped in a changeup, but he wanted to put away Quinn with a slider. He wanted the strikeout. The pitch was off the plate and called a ball, and Brault eventually walked Quinn.
Brault, the Pirates' No. 10 prospect according to MLBPipeline.com, ran into more trouble, giving up another walk and two singles that allowed one run to score. Then he reached his pitch count, and left the game with the bases loaded. Phillies third baseman Maikel Franco took reliever Jared Lakind deep for a grand slam.
• Spring Training: Info | Tickets | Schedule | Gear
Just like that, two clean innings turned into a subpar pitching line: 2 2/3 innings, four hits, four runs, two walks and one strikeout -- all because of what Searage deemed a "selfish" mistake that Brault immediately recognized and learned from.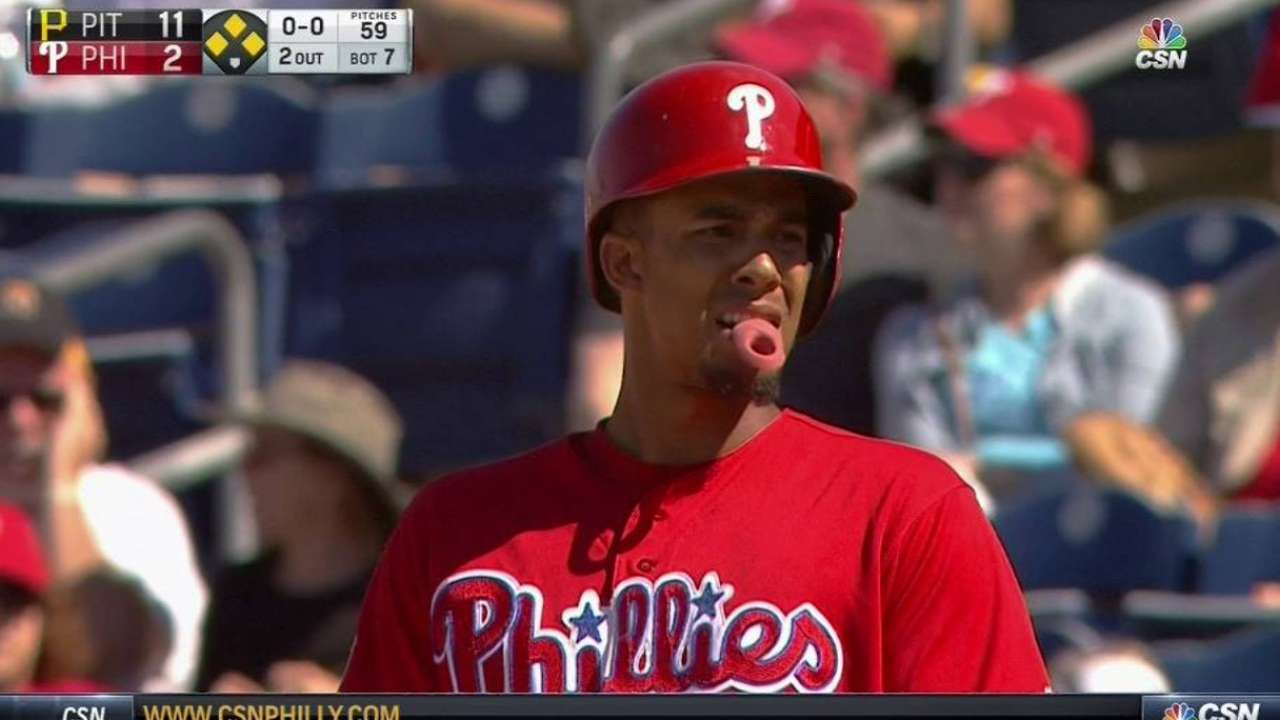 "It was a little mental weakness," said Brault, competing for a spot in Pittsburgh's rotation. "It's something that has to be better and will be better moving forward. … I got away from my game plan in [my] third inning. Ugly, but something to move forward from."
Brault has found success this spring with an aggressive mentality, pitching to get quick outs and utilizing everything in his arsenal. He said he struggled in the past when he focused on strikeouts, narrowing his pitch selection to fastballs and sliders.
"That's not me," Brault said. "I got selfish, like [Searage] said, and I hate that word. It's something I can learn from, but something I can also correct right now and not do it again."
On the positive side, Brault could point to his first two innings on Saturday. He gave up two singles, erased one with a double-play grounder and only faced seven batters. He didn't strike out anyone, but Searage reminded him the strikeouts will come in time.
"Clean innings. Quick, attacking the zone, letting guys get themselves out," Brault said. "Being clean like that, that's the mindset I want.
"I'm out here trying to make a team, and I think I've done a pretty good job using my guys, having that mindset of being clean and getting quick outs instead of worrying about strikeouts. It really works for me. Getting back to that's been huge. Taking that, that's where I want to be all year."
Adam Berry has covered the Pirates for MLB.com since 2015. Follow him on Twitter and Facebook, read his blog and listen to his podcast. This story was not subject to the approval of Major League Baseball or its clubs.