Nicasio content to pitch out of Pirates' bullpen
Right-hander had success pitching in relief after rough stretch as a starter in 2016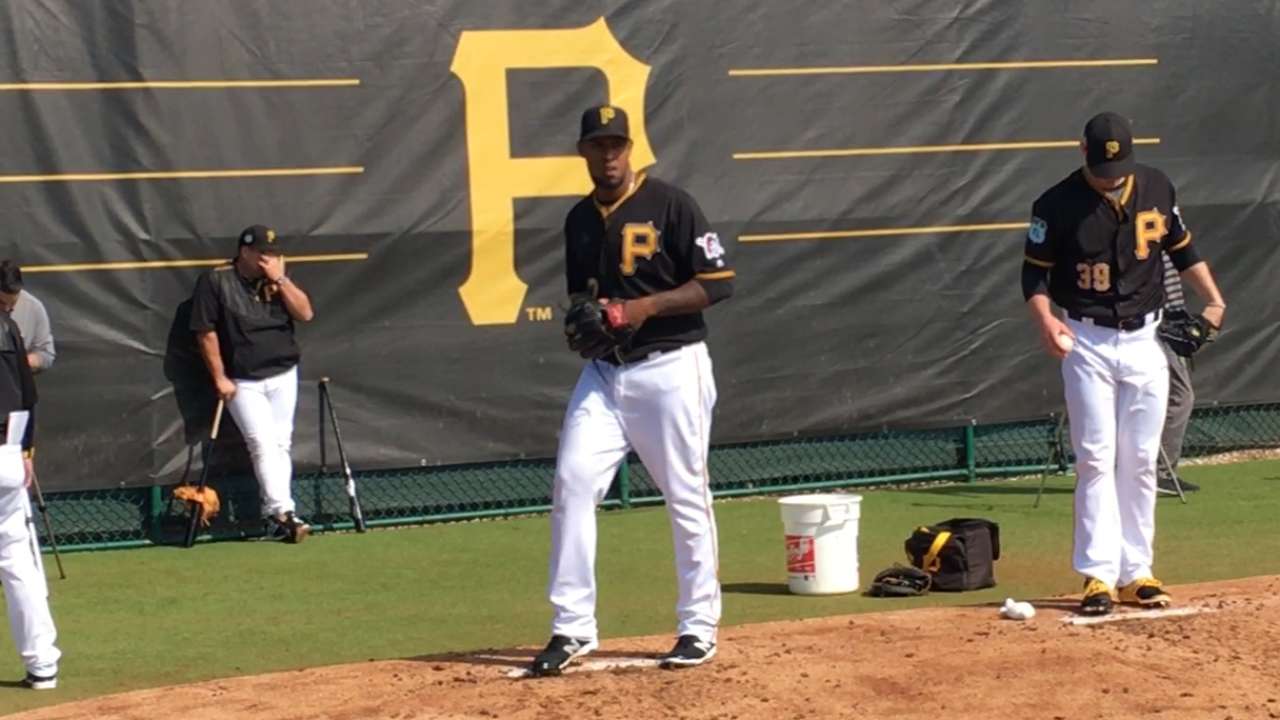 BRADENTON, Fla. -- Juan Nicasio won't be the Pirates' Spring Training surprise this year. He's ready to pitch out of the bullpen.
"No more trying to be a starter," Nicasio said, smiling. "I'm pitching better in the bullpen. I think I can help the team more in the bullpen than starting."
When Nicasio came to camp last year, the expectation was that he'd wind up in the bullpen. But the veteran right-hander put together an incredible Spring Training, throwing one lights-out performance after another, and gave the Pirates little choice but to put him in the rotation over Ryan Vogelsong.
The results did not follow Nicasio to Pittsburgh. After a dominant spring, he posted a 5.05 ERA in 12 starts. So the Bucs moved him to the bullpen, where he became a hybrid high-leverage/multi-inning weapon for manager Clint Hurdle. In his end-of-season exit interview, Nicasio told Hurdle and general manager Neal Huntington he felt most comfortable in the bullpen.
• Spring Training: Info | Tickets | Schedule | Gear
"Where you're better is where you stay," Nicasio said. "I've been better in the bullpen, so I need to stay in the bullpen."
So, Nicasio is set for the same role this season. With closer Tony Watson and setup men Daniel Hudson and Felipe Rivero in place, the Pirates can again use Nicasio's versatility and strikeout stuff to their advantage.
"I like the role we had him in last year. He flourished in it," Hurdle said. "There were games where he could [give] late[-inning] leverage, depending on the use of the other guys. There were days he came in and stopped the biggest situation of the game in the sixth inning, then was able to add another inning to it.
"It was actually a similar situation to how you saw the two men [Andrew Miller and Aroldis Chapman] get used in the postseason. We had a guy who was doing it for us."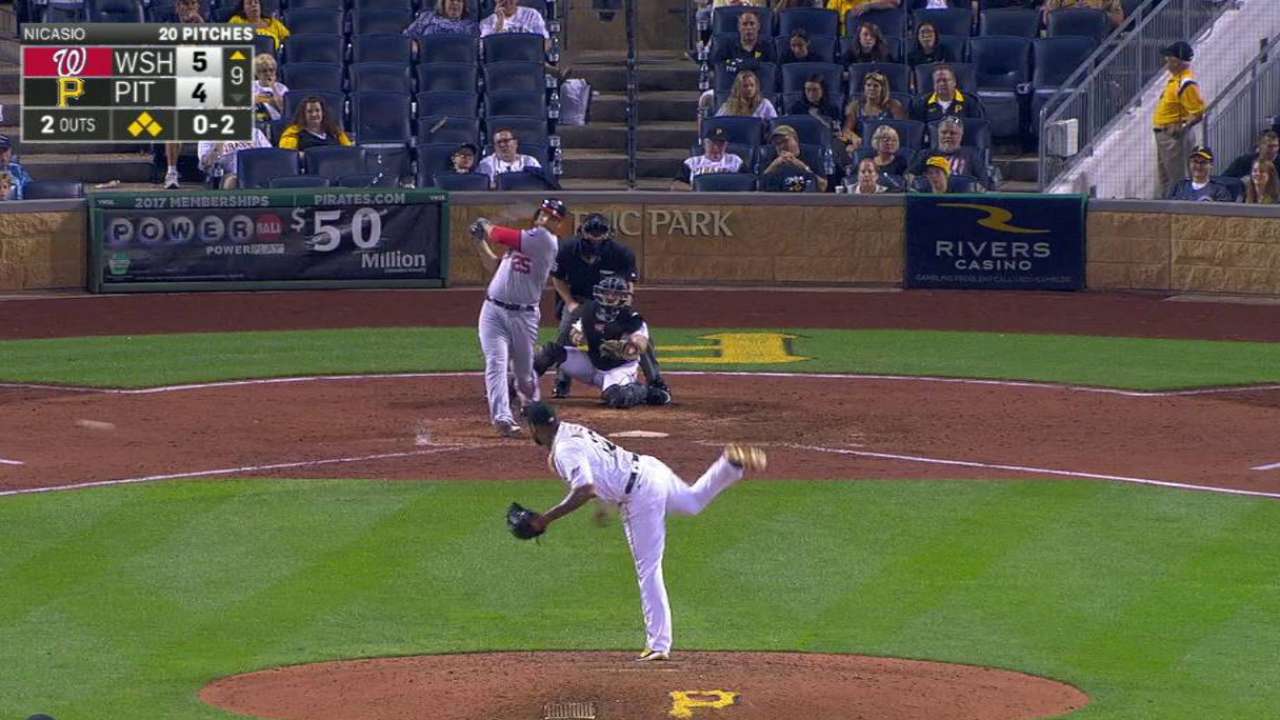 Nicasio was proud to earn a starting job last spring. Despite spending the 2015 season in the Dodgers' bullpen, he still considered himself a starter. He figured his less than impressive numbers may have partly been a product of pitching in hitter-friendly Colorado from 2011-14, and he was eager to prove that he could thrive if given another chance elsewhere.
"I thought, OK, one more opportunity to be a starter," Nicasio said. "But you see my numbers in the bullpen, they're better than starting. OK, I want to stay in the bullpen."
After making the move permanently last year, Nicasio looked like his short-burst Spring Training self again. His hard fastball and swing-and-miss slider played up in relief, and he felt free to attack, with the understanding that he might only face three batters each time out.
He put together a 2.96 ERA with 73 strikeouts in 53 2/3 innings over 38 appearances after June 26. He struck out at least one batter in a club-record 33 straight appearances. At the end of the year, he ranked fourth on the team in appearances (52), second in innings (118) and first in strikeouts (138).
How did his arm handle that heavy workload?
"I was tired because I threw a lot -- but good, normal tired, but not sore, nothing. I was surprised by that," Nicasio said, laughing. "I was surprised. I was feeling tired but normal."
Nicasio ran more often this winter, adding daily 25-30 minute runs to his usual offseason routine. He wanted to focus on endurance, and to prepare himself for the role he knows -- for certain, with no surprises in store -- he'll play this season.
"I know this year I'm going to be pitching a lot, too," Nicasio said. "I worked hard."
Adam Berry has covered the Pirates for MLB.com since 2015. Follow him on Twitter and Facebook, read his blog and listen to his podcast. This story was not subject to the approval of Major League Baseball or its clubs.