Hurdle tossed for arguing ump interference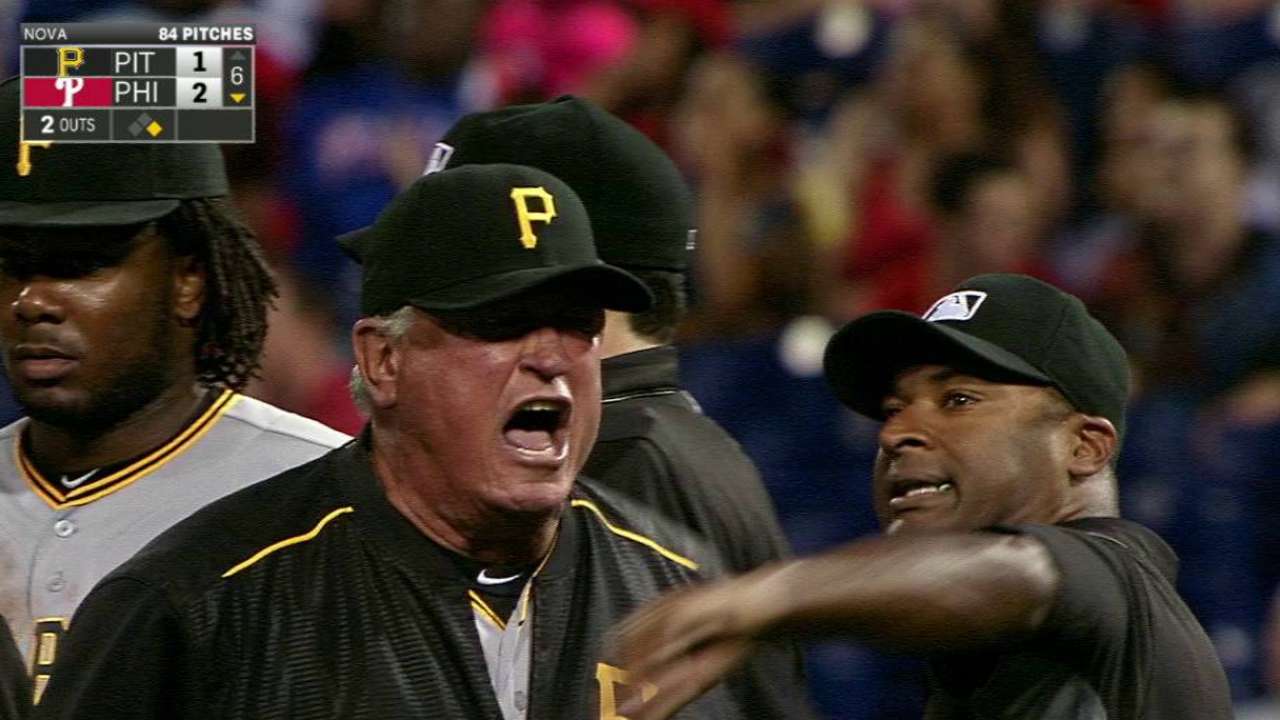 PHILADELPHIA -- Manager Clint Hurdle was ejected in the sixth inning of the Pirates' 5-3 win over the Phillies on Tuesday night for arguing with first-base umpire Alan Porter.
The disagreement took place after the Pirates couldn't turn a double play on Ryan Howard's one-out grounder to first baseman Josh Bell. Trying to turn a double play, Bell fielded the weak grounder and fired the ball to shortstop Jordy Mercer for the forceout at second base. Mercer's throw found second baseman Adam Frazier, who was covering first base, but not before Howard touched the bag to avoid the inning-ending double play.
"On the way there, the umpire's yelling at me, saying, 'Whoa, whoa, whoa.' I guess he reached out at me," Frazier said. "He's trying to get in a position to see the play. I'm trying to get there to make the play. We just kind of collided, I guess. Jordy had to hold on to the ball a little bit longer as a result of that, and they scored that run. It is what it is. I guess rules say they can't really do much about that, but it was a pretty big play."
From the dugout, Hurdle noticed that Porter reached out and slowed down Frazier as he was running toward the bag. Sure enough, replays showed that Porter's arms clearly struck Frazier and disrupted his path to the base. Frazier made it in time to receive Mercer's throw, but Mercer might have been able to make a quicker turn had Frazier been in position earlier.
"I saw it happen, and I didn't like it. Whether it's unfortunate, whether it's bad luck, it just didn't work for me," Hurdle said. "It just didn't work for me because a double play is a timing play, and it just threw off the timing of the play. It's one thing to bump into somebody, but when your hands get on somebody, that's another."
Hurdle walked onto the field to discuss the play, and the umpires convened. The call was not overturned, and it wasn't subject to review, so Howard's run-scoring fielder's choice put the Phillies ahead, 2-1. Hurdle became more upset and continued to argue with Porter, leading to his ejection.
"I felt I would keep calm, cool and collected and somebody would get it right -- or at least something that I wanted," Hurdle said. "I didn't get what I wanted. We didn't get what we'd like. So I shared my opinion.
"I'm not blaming anybody, but it didn't look right. It doesn't feel right. … The actions speak for themselves. I don't think there's any intent going in, but what happened, it didn't look right and it didn't feel right."
It was Hurdle's sixth ejection of the season and the 51st of his managerial career.
Adam Berry has covered the Pirates for MLB.com since 2015. Follow him on Twitter at @adamdberry. This story was not subject to the approval of Major League Baseball or its clubs.