Shaky Cole exits after two frames in return
Last year's Pirates ace struggled, throwing 55 pitches in short outing vs. Phillies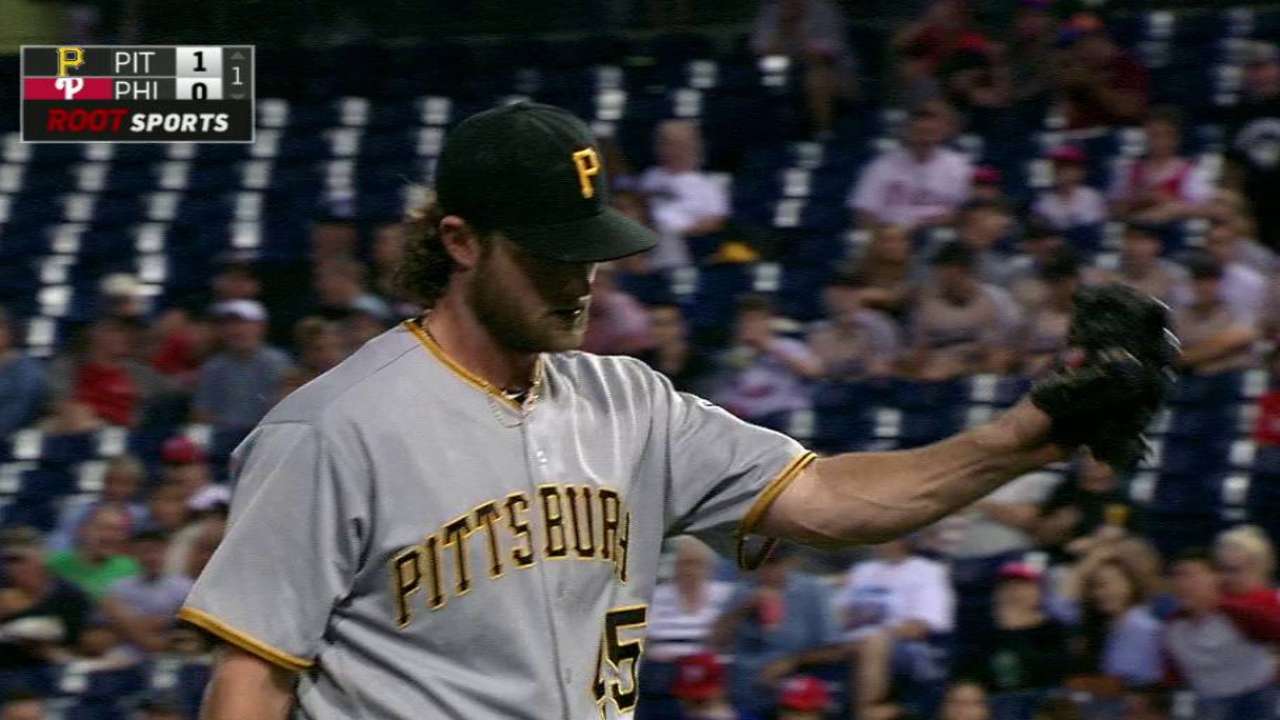 PITTSBURGH -- Gerrit Cole rejoined the Pirates' rotation on Monday night at Citizens Bank Park, but he did not return to form -- at least not the form he and the Bucs were hoping to see. Now, the question becomes whether Cole will take the mound again this season.
Cole struggled through two long innings in his first start since Aug. 24, giving up five runs on four hits and a career-high-tying four walks while striking out three in the 6-2 loss to Philadelphia. He threw 55 pitches, 29 for strikes, and he couldn't contain a young Phillies lineup loaded with left-handed hitters.
The Pirates' unquestioned ace a year ago, Cole looked Monday night like the pitcher who struggled badly in August before going on the disabled list. And after the game, he was again left without answers to explain his uncharacteristically poor performance.
"It was just a bad night," Cole said. "I put us in a huge hole early. That's not what we needed."
Cole spent a little more than two weeks on the disabled list recovering from posterior elbow inflammation. As he worked his way back to the mound, he focused on repeating his delivery, the crux of his problems throughout this injury-plagued year. He has dealt with three separate maladies since January: rib inflammation in the offseason, a triceps strain in June and the elbow inflammation in August.
"We've worked a lot on it. It was inconsistent tonight again," Cole said of his mechanics. "There were some good pitches, but obviously not enough to keep us in the ballgame."
Physically, Cole said he felt "as good as I'm going to get." With the Pirates four games below .500 and on the far edge of the postseason picture, will they continue to let Cole pitch? Or is now the time to shut him down and begin what will hopefully be a full and healthy offseason?
"I'd like to just take it day by day at this point," Cole said. "I'll probably have a better answer down the line."
Through it all, Cole has lacked the consistently dominant presence he displayed a year ago, when he finished 19-8 with a 2.60 ERA and ranked fourth in the National League Cy Young Award voting. Cole's ERA climbed to 3.88 after Monday's outing, and he has allowed more hits per inning while striking out opponents less frequently than he did from 2013-15.
Cole faced 13 batters Monday night, and eight of them reached base safely.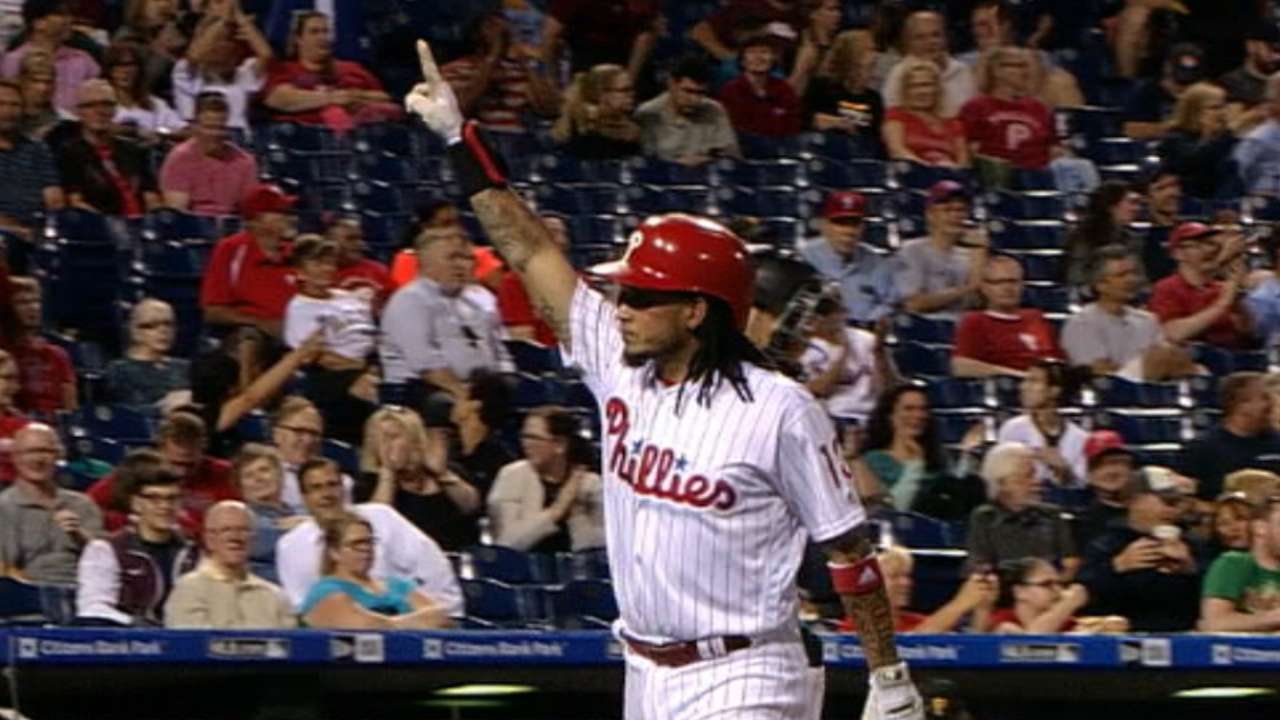 "As much as anything, it's absence from the game. He poured everything he had into the side sessions and bullpens," manager Clint Hurdle said. "It's just absence from the mound, getting back into game competition. … It's just the overall execution wasn't where he wanted it to be or where we needed it to be."
He walked the first two batters he faced, searching for the strike zone with his fastball, then recovered to strike out Maikel Franco on a 96-mph heater. Ryan Howard went down swinging at an 88-mph slider to end the first inning.
Cole couldn't escape trouble in the second inning, however. The Phillies piled on five runs -- first on a Freddy Galvis homer, another on a Cody Asche double, two more on Roman Quinn's double and another on a groundout -- before Cole struck out Howard again and marched off the mound.
"After two innings and 55 pitches, that's enough," Hurdle said. "We're not heading in the direction we need to head in for him to continue at that point."
Adam Berry has covered the Pirates for MLB.com since 2015. Follow him on Twitter at @adamdberry. This story was not subject to the approval of Major League Baseball or its clubs.