At Bat
Get At Bat for multi-platform access on supported smartphone and tablet devices, plus live Gameday Audio access on your Mac & PC.
MLB.com Ballpark
Download the MLB.com Ballpark app, the mobile companion to your favorite MLB ballpark.
Beat the Streak
Break baseball's toughest record, the legendary 56–game hitting streak. Beat the Streak is FREE and it is now easier than ever to win $5.6 million.
R.B.I. Baseball 15
The legendary Major League Baseball franchise returns to the diamond. Coming this spring.
Head to Head Challenge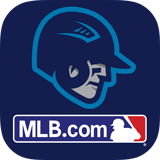 Challenge your friends or an MLB.com expert to daily drafts and earn the ultimate bragging rights. Head to Head Challenge is free, easy to play and adds excitement to every MLB game.
Home Run Derby
Test your might with the official Home Run Derby game of MLB.com. Download FREE today in the iTunes App Store and Google Play!
Ballpark Empire
Build your very own stadium, manage your own MLB team, sign the best players and attract the most fans as you guide your team to the World Series! Play FREE on iPhone, iPad, Facebook and select Android devices!
Franchise MVP
Do you have what it takes to become the Franchise MVP? Follow your dream from the Minors to the Majors. With 30 REAL MLB Franchises, including 90 MiLB Teams! Download FREE in the App Store and Google Play!
MiLB First Pitch
Get up-to-the-moment stats, scores, news and video for all Triple-A, Double-A, and Single-A clubs.